Denver to Aspen Car Service
24/7 Denver to Aspen car service
Easy online booking for all your transportation needs
Door-to-door private car service
Safe travel with experienced and helpful drivers
A great alternative to taxis and shared-ride services
Reduce stress, no haggling at the airport, no queues for Uber or Lyft
Luxury cars with professional chauffeurs
All major credit and debit cards accepted
CHILD SEATS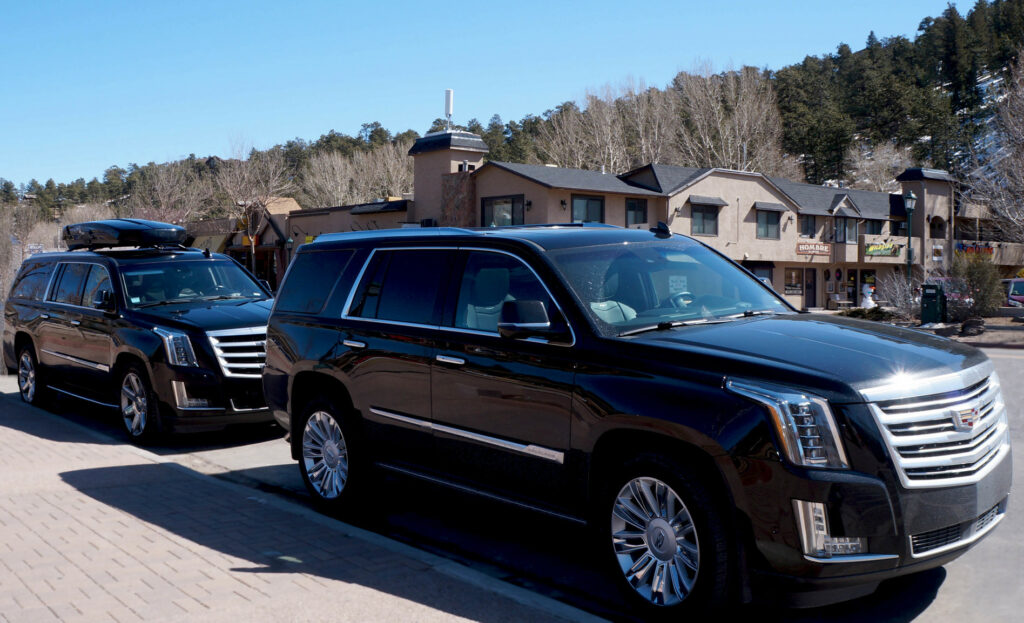 Book Denver to Aspen Car Service
Best Denver Airport to Aspen Car Service and Private Shuttle
Do you want to drive at least 3 hours and 45 minutes from Denver to Aspen after you've already spent a ridiculously long amount of time on the flight to get to Denver in the first place? If your answer was no, you're in the same category as many other people who just want to sit back and enjoy this beautiful town in the mountains as soon as possible!
You've probably been planning this amazing trip from to Aspen for quite some time now. Whether you want to go skiing or just take in the magnificent scenery, you have to figure how to get there first. There is no shame in booking a nice, affordable flight to Denver from wherever you're residing. This will give you a wider array of flight options at more competitive prices.
We love a great deal just as much as you do! Silver Mountain Express transportation services are a private transportation shuttle that is here to help provide you with the most amazing travel experience possible! You could potentially fly straight to Aspen from your home, but you would miss out on the breathtaking Rocky Mountain landscape that comes with a road trip from Denver to Aspen in the car. Silver Mountain Express doesn't only provide you with private transportation, but the most luxurious ride you'll ever experience!
Let's browse through the top 3 best Denver airport to Aspen car service we provide that you can choose from and book today!
What is a private car service?
Our private car service is the solution to your traveling problems! The whole purpose of going on vacation is to get away from all the typical stress caused by the many priorities you're responsible for in your everyday life. Now that you've already taken the initiative to book the perfect flight that is within your budget, why start struggling once you successfully land in Denver? That's where we come in!
Silver Mountain Express provides you with luxury vehicles that you can book ahead of time to ensure they're ready for you once you get to Denver. There is truly nothing like taking a nice drive through Colorado's Rocky Mountains. We are here to take you on this incredible journey from Denver to your final destination, the gorgeous town of Aspen. The winter season is just around the corner, so if you're choosing to vacation here soon, don't get caught in the winter weather without the right tire traction! Avoid the strict Colorado traction laws that are associated with using rental car services. Let us take care of this for you!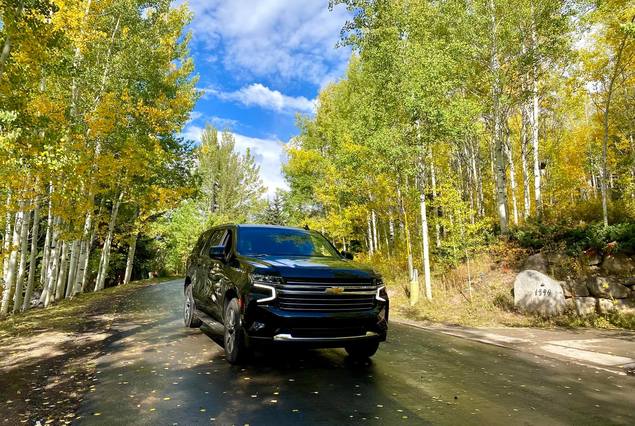 Our 5-Passenger Luxury Large SUV: Less Is More
Enjoy the private and exclusive benefits associated with our 5-passenger large SUV. This intimate experience is one you get to share with just your family and friends. No one else will be sharing this ride with you, so you can feel very comfortable taking in the sights with your loved ones!
We offer a nice fleet of luxury SUVs that fall into this category. You can choose from the following:
Chevy Suburban
GMC Yukon
Cadillac Escalade
Sprinter Van
Ford Transit
All these luxury SUVs will provide you a great feeling of security and comfort. As soon as you book your flight and know when your plane is expected to land in Denver, schedule our services to be there when you arrive! After your long flight, you can enjoy complimentary beverages and ski boxes while adoring the luxury interior in this smooth ride.
Our 6-Passenger Luxury Large SUV: For the Entire Family
Suppose you're a larger party who tends to find it quite hard to find a rental car company that can fit the whole bunch, not to worry! Our 6-passenger luxury SUV will provide you with the reassurance that every member of your family is going to arrive in Aspen together. Your winter road trip from Denver to Aspen is going to be conducted safely in this four-wheel-drive SUV. The second-row bench seat can be just what you need to make sure everyone is included on this journey.
Having seven passengers won't create any space issues in this large SUV, so both you and your luggage will enjoy a very spacious ride. This category of vehicles also includes the following:
Chevy Suburban
GMC Yukon
Cadillac Escalade
Sprinter Van
Ford Transit
Complete your family road trip in comfort with this premium option!
Our Luxury Van: Where Leather Meets Luxury
This exceptional vehicle provides you even more space than our 7-passenger SUV. If your party has a lot of extra luggage and is in need of a lot of extra room, this is definitely the choice for you! There is no need to be afraid that your family is going to be split up because you don't have enough room for all your fun ski equipment and every passenger as well. These luxurious vans will make this present fear a distant memory!
When you usually think of vans, you might not quite think of them in the category of luxury or premium comfort. Fortunately, the Ford options we provide our customers come with captain's leather chairs that provide maximum comfort for everyone during the entirety of the trip through the stunning Rocky Mountains! The large windows will also give you an incredible opportunity to truly immerse yourself in this amazing landscape.
Silver Mountain Express: The Only Choice
Although you could opt to take an expensive direct flight to Aspen or hop on a community bus that delivers a minimal level of comfort, we would much rather you ride with us! The combination of our easy accessibility, high customer satisfaction rate, and 24-hour service should tell you everything you need to know about how important your happiness is to our team!
Friendly and professional Denver to Aspen Car Service, passenger transportation, and private shuttle services from/to Aspen and Snowmass. Our range of services provides point-to-point car service, door-to-door airport transfers, long-distance car service.
Beautiful Aspen Colorado is famous for its high-end shops and restaurants and its world-class luxury ski resorts. With premier slopes, cross-country trails, and award-winning terrain, there's something for everyone.
Silver Mountain Express offers Denver to Aspen Car Service. All of our SUVs feature protective ski boxes for safe, secure transportation for your ski/snowboard gear. Our fleet has plenty of room for all of your luggage (maximum of 6 passengers). You can always request a 7-seater SUV or VAN in advance. We also provide baby and booster seats for your children at no cost. Your family's safety is important to us.
Where to meet the driver at the Denver International Airport? On the second island, there will be a booth with a sign that reads "LIMO." Your driver will be waiting for you on the Island.
If you're staying at Vail or Beaver Creek resorts and decided to visit Aspen or Snowmass last minute, Silver mountain Express is the right choice. We provide private transportation all over the Colorado area, no matter what weather is or road condition. We open 24/7.
If you are still unsure what to choose between a shuttle service, Uber, Lyft, or renting a car, the safest way to travel with family from Denver airport to Aspen/Snowmass is to choose a private car service Denver to Aspen such as Silver Mountain Express. You will travel in a luxury SUV or VAN with plenty of room for all.
We will bring you back from Aspen/Snowmass to Denver Airport in time. We track road conditions and weather conditions to get you safe and in time to your final destination.
Book your round trip adventure with Silver Mountain Express today and receive our special low price offers. The best choice from Denver to Aspen Car Service.
Our customer-centric approach will provide you with luxury transportation of the highest quality every time you choose to use our services. If you're vacationing in Aspen soon and are ready to ride in comfort, contact us today or BOOK DENVER TO ASPEN CAR SERVICE NOW!