Best Non-Shared Shuttle Service and Private Transportation from Denver to Copper Mountain
24/7 Customer Service
Easy online booking for all your transportation needs
Door-to-door private car service
Safe travel with experienced and helpful drivers
Airport greeting and no problems if your flight is delayed
A great alternative to taxis and shared-ride services
Reduce stress, no haggling at the airport, no queues for Uber or Lyft
Luxury cars with professional chauffeurs
All major credit and debit cards accepted
CHILD SEATS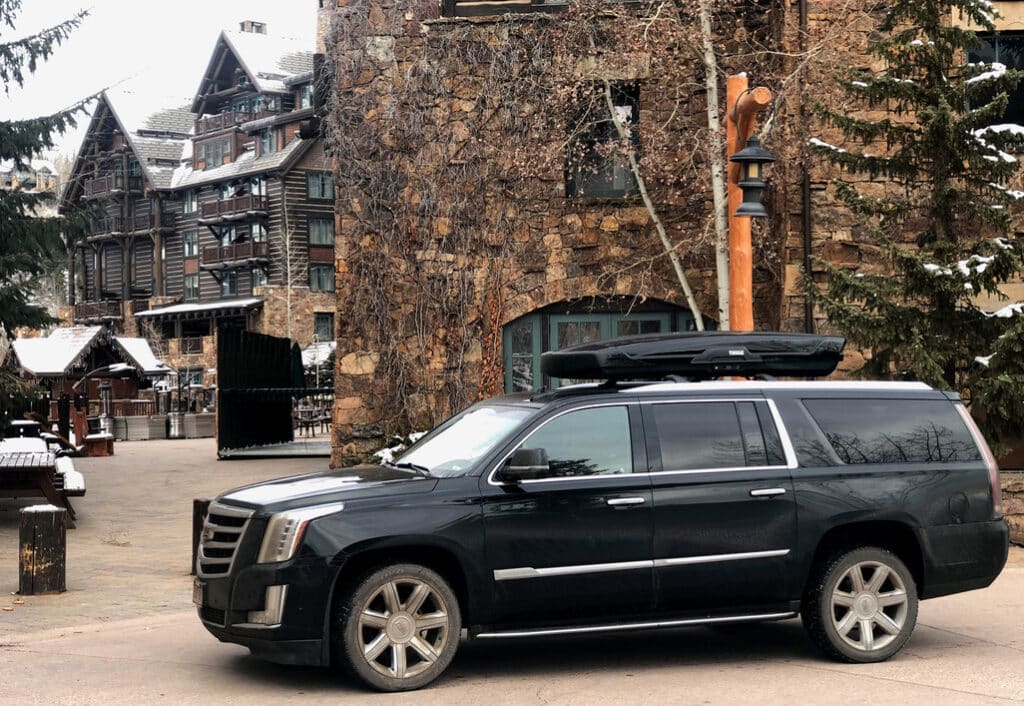 Book a ride to Copper Mountain
Chances are if you're visiting Colorado, you're there to hit the slopes. Copper Mountain is one of the most beautiful and fun mountain resorts that the state has to offer. Ski slopes, rides, and a wide array of dining and shopping options will ensure you're never bored on the mountain.
But there's just one problem: getting there. There's a lot of hassle involved with driving in general, but it becomes even more of a challenge when you're trying to do it in Denver. The traffic is frustrating, and the cold weather conditions native to Colorado can be treacherous to navigate if you're not familiar with them.
Silver Mountain Express Will Drive You Safely To and From Copper Mountain
To lower your stress level and free you to concentrate on all the fun you'll have on Copper Mountain; you need to hire a private shuttle service. But not just any shuttle service. You need a luxury vehicle you can relax in while a safe, professional driver transports you from the bustle of Denver to the clean, crisp slopes of Copper Mountain.
Silver Mountain Express is just the ticket. We offer a high-end private transportation experience with luxury vehicles and experienced drivers.
Many shuttle services offer the same benefits as we do, like door-to-door transportation and insured vehicles. But Silver Mountain Express also offers special features that make us the best choice for your ride.
1. You Can Book A Ride Anytime Day Or Night
Whether you're coming back from the slopes late or want to get an early morning start, we've got you covered. Our drivers are available any day of the week and any time of day or night. They are experienced in driving in all conditions, including darkness, so that you can feel safe on the way back to your hotel or home.
2. We'll Pick You Up In A Luxury Vehicle
Did we mention we'll pick you up in a luxury vehicle? Whether you're on vacation or just looking for a quick weekend getaway, you deserve to travel in style. You don't want to spend the ride from Denver to Copper Mountain sitting awkwardly in smelly, stained seats and listening to your shoes stick and unstick from the grimy floorboards. No, it would help if you felt totally relaxed and comfortable while you look forward to arriving at your destination. We offer a stress-free, high-quality riding experience in a luxury vehicle that you'll enjoy from start to finish.
3. Our Professional Chauffeurs Will Drive You
Our drivers are experienced and safe. They're also familiar with the Colorado area and know how to drive in Colorado weather. This includes icy conditions, which can be intimidating if you've never driven in them before. If you're visiting Denver and Copper Mountain and aren't used to the extreme weather, a private driver is the best and safest option for your travel needs. With ours, you don't have to worry or stress about whether you're going in the right direction or taking the right exit. You can sit back and wait for Copper Mountain to grow larger in the distance.
Book A Stress-free Ride Today
It's time to get you to Copper Mountain! Book your ride with us today and enjoy a safe and luxurious experience.