Vail, Colorado is a charming town located at the base of Vail Mountain. Vail is famous for its mountainous beauty and its huge Vail Ski Resort, which tourists flock to every year.
The Westin Denver International Airport is connected to the Jeppesen Terminal of the main Denver International Airport. The Westin Denver International Airport has an array of transport links with Vail, Colorado which is why many tourists choose to fly there.
In this article, we will be telling you all the key information about the sophisticated West Denver Airport Hotel, as well as all the different ways you can travel from here to Vail, Colorado.
Everything You Need to Know about The Westin Denver International Airport
The Westin Denver International Airport has a direct connection to Denver International Airport, so once you have landed, you can quickly and easily make your way to the hotel.
The hotel's iconic roof is made to resemble a flying bird, which is fitting for an airport hotel. The curved roof emulates the shape of the Jeppesen Terminal's peaked roof. Witnessing this innovative architecture is truly breathtaking.
The rooms have incredible views of the famous Rocky Mountains and Colorado's gorgeous landscape.
This futuristic hotel is the perfect blend of luxury and business. It features:
519 guest rooms and 35 suits
37,500 square feet of conference rooms
15 boardrooms/meeting rooms
Two gorgeous ballrooms
An indoor pool and gym that overlooks the airport's famous roof
Transit Drop Centre, where you can conveniently drop off luggage before a flight
The hotel is also next to Denver International Airport's open-air Plaza, where you will find food and drinks, entertainment, and events to get involved with.
Valet parking is also available for $39 for five nights, and a further $19 for each night thereafter.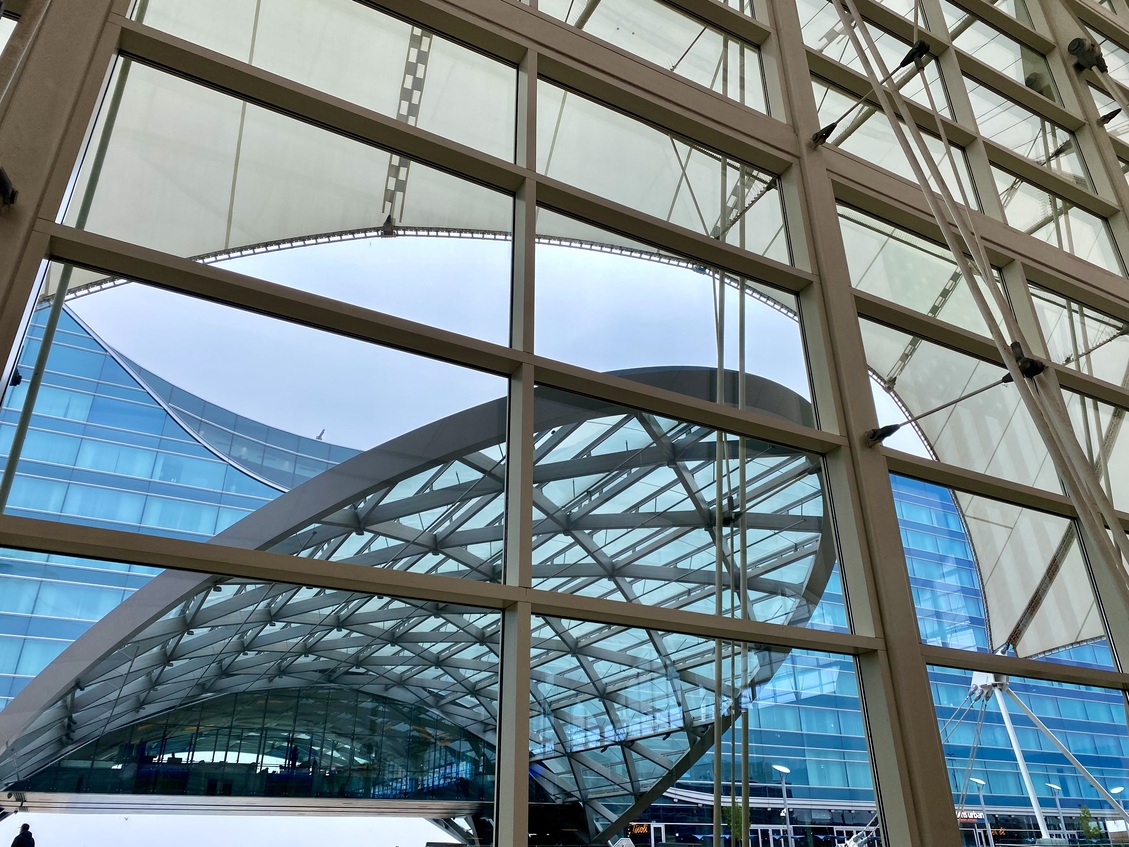 Eating at The Westin Denver International Airport
Within the hotel, there is a wide array of luxurious dining options. The hotel has a focus on healthy eating, and its menus feature fresh, organic cuisine that not only tastes delicious but fuels your body. Here are a few of the hotel's eateries:
Grill and Vine – classic grill and bistro food that can be eaten on the outdoor patio overlooking the gorgeous airport Plaza.
Sky Lounge – this is a fully stocked bar located on the 6th level, which has a glass wall overlooking the Plaza.
Ingredients at the Westin – here you can enjoy Starbucks coffee as well as pastries and other light snacks.
The Open-Air Plaza
This open-air structure can fit 2,000 on a standard day, and as many as 4,500 if a permit is acquired. To give you a rough idea of the size of the Plaza, it is the equivalent of 1 football field and 2 basketball courts.
At the Plaza, hotel guests can find food, drinks, entertainment, and art. The Plaza offers the chance for guests to unwind after a stressful day of traveling and enjoy the scenic view of Colorado.
Transport Options from Westin Denver Airport Hotel to Vail, Colorado
Here are the best ways to travel from West Denver Airport Hotel to Vail, Colorado.
The Westin Denver International Airport to Vail by Shuttle
Using the shuttle is a great way to get from Westin Denver Airport hotel to Vail. It's called the Epic Mountain Express and they offer several daily transfers to most Vail hotels and ski resorts.
The shuttle has room for up to 10 people and has comfy chairs to make the trip more enjoyable. The shuttle departs frequently during the day, so there are lots of chances to hop on.
The trip takes just over a couple of hours to complete, depending on how many stops it needs to make for the different passengers. The journey will cost you $54 per person.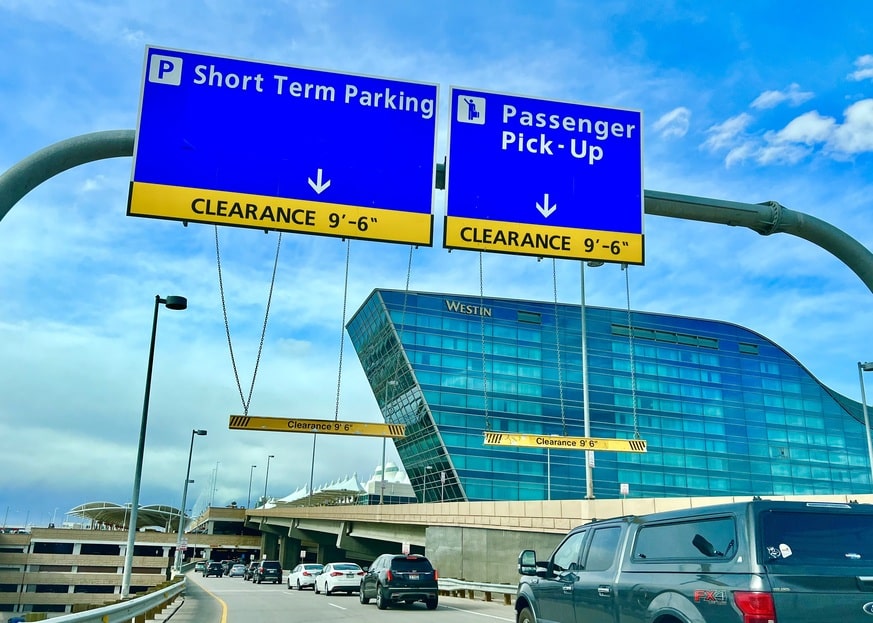 2. The Westin Denver International Airport to Vail
If you would prefer to drive yourself, you can get to Vail by car. The journey takes approximately two hours to complete.
The route from the airport to Vail is beautiful and it is truly relaxing to take in the mountainous scenery and woody areas. This drive is a fantastic introduction to the area.
It's important to note that parking in Vail is overpriced and good spots can be hard to find.
This is because Vail Village is car-free, so you can only park in a few car parks or at your hotel car park. Don't worry about getting around when you're in Vail, as there is a free public bus system. These free buses run between Vail Village, Lionshead, and East and West Vail, the areas where most of Vail's attractions, eateries, and ski resorts can be found.
3. Traveling from Westin Denver Airport to Vail by Private SUV Hire
You should be aware that driving from the airport to Vail is notoriously hazardous. This is because the roads are often slippery, particularly during winter.
If you're unfamiliar with driving on these roads, then it can be stressful and dangerous. Due to this and the limited car parks, many travelers opt for car hire.
For the most luxurious ride, you can use Silver Mountain Express, a private limo and SUV hire service. You can sit back and relax, as your chauffeur takes you directly from Westin Denver Airport to Vail, which takes just over two hours.
RATES
The service operates 24 hours a day, 7 days a week, so no matter what time your plane lands, they will be there to meet you. Another advantage is that you don't have to share your ride with any other strangers, as you would on the bus or train.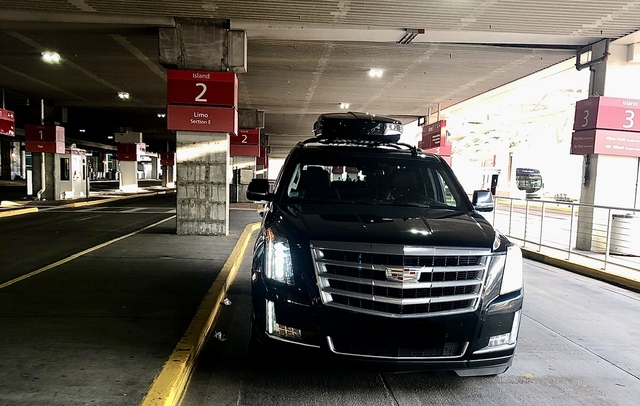 4.Catching the Bus from Westin Denver Airport Hotel to Vail
The most affordable way to get to Vail from Westin Denver Airport is to take the bus. You can make use of the Colorado Department of Transportation's Bustang, which departs from the Union Station in downtown Denver.
Firstly, you will need to make your way to Union Station. To do this, you can use the Denver Airport rail system, riding for six stops before reaching Union Station. This rail journey is 23 miles long and lasts for just over half an hour.
Once you have arrived at the Union Station, you can take the CDOT West Line bus to the Vail Transportation Center. The bus ride takes 2.5 hours and costs $17 one way.
Remember that this particular bus only departs twice a day, at 7 am and 5.40 pm, so make sure that you factor this into your travel plans.
Once you have arrived at the Vail Transportation Center, you can walk, Uber, or catch the free Vail bus to where you will be staying.
5. Catching a Flight from West Denver Airport to Eagle Country Regional Airport And Driving Part Way
The last transport option is to fly from Denver International Airport to Eagle County Regional Airport. The airport is roughly 35 minutes away from Vail, by car.
In the wintertime, there are lots of direct flights between Denver International Airport and Eagle County Regional Airport. However, during the summer the number of direct flights drops significantly, and you can only purchase direct flights if you're traveling from Dallas to Eagle-Vail.
Flight prices between these two airports depend on the time of year, but they usually range from $300-$700.
Once you are at Eagle County Regional Airport, you can rent a car or book a private car service since an Uber or Lyft are not allowed at the airport.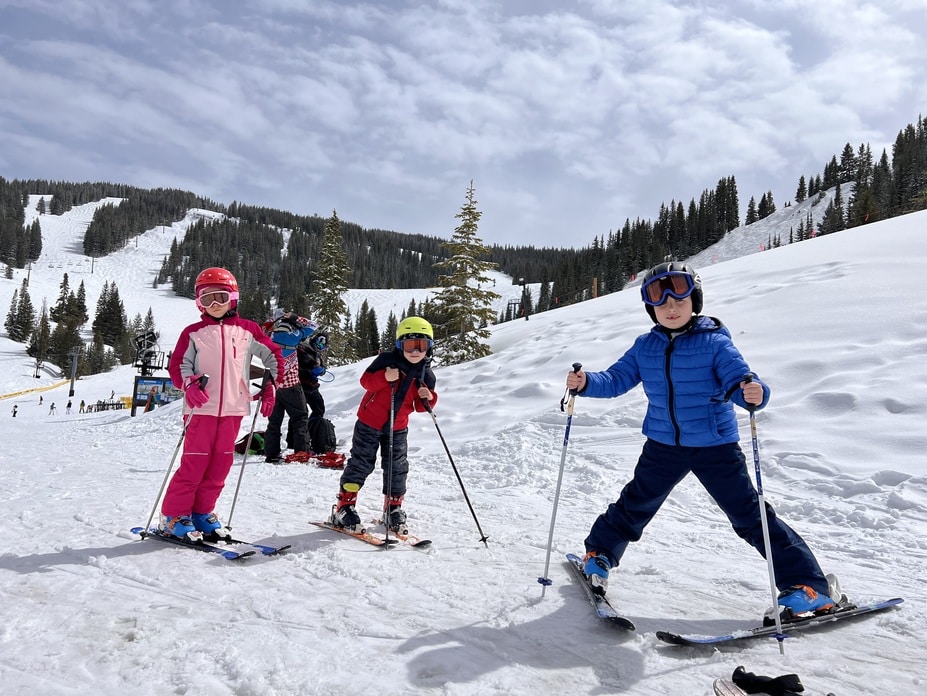 Final Thoughts
We hope that we could help you discover the different transport options from Westin Denver Airport Hotel to Vail. Whatever option you choose, you can be sure to have an unforgettable trip seeing modern The Westin Denver International Airport and the mountains of Vail!
Thank you for taking the time to read our article today!