Red Rocks Amphitheatre is a theatrical show and concert host that provides various audiences entertainment in all classical genres yearly. The audience base of this Amphitheatre expands across the globe. For tourists and enthusiasts who want to taste this mega stage, nothing an effortless visit is vital. Here is a thorough guide to assist you in finding your way to the theater no matter your departing destination.
Red Rock 2021 Concert Schedule
For 2021, a lineup of activities is listed for this city of Denver, Colorado-owned theater. The schedule plan is extensive, with shows covering music, drama, comedy, and more. For years the theater has run successfully without interruption. However, due to the pandemic of 2020, a massive stop was made to the theater. No shows were held, leading to a break in the string of successful shows.
Thankfully with a better year ahead, Red rocks are set to offer a schedule-packed event.
On the 22nd of April 2021, the theater officially resumed after months of closure. From then till the 14th of November, the theater plans to offer non-ending performances. For enthusiastic visitors interested in knowing what shows will be held, they can look through the long-standing events hosted by the theater from 2012. The theater has provided live music from the most significant stars like the Beatles and Sting, and much more. One thing is sure the event will encompass a lot of grand live music performances from major stars.
They can also expect to see shows that have been postponed from 2020. The theater closed around April in 2020, so all shows scheduled were halted. However, they plan to include that into their already packed schedule for the year. How this will happen is yet to be announced, but we can look forward to an entertaining year. Although they were determined to resume, the theater is still very much dedicated to fulfilling all the rules of the pandemic prevention system. For that, the venue located west of Mile High City was set up to ensure social distancing. Their 738 acres of land set aside for hiking is now more utilized and dedicated not just to show its geological beauty but to accommodate the teeming visitors. They also incorporated live viewing for those who cannot travel to the venue.
Red Rocks Amphitheatre at full capacity May/June 2021
During April, to manage the pandemic spread, Red Rocks Amphitheatre opened its doors to a controlled number of visitors. This meant that several people were not allowed to enter the theater. In May, however, they opened their doors to more people. In April alone, surrounding hotels saw a massive swamp of visitors and fanatics. The rough estimate for the arriving crowd was set at 2500. In May, the forecast was to increase by over 3500 people. This was primarily because the theater announced an expansion in its controlled capacity for fans. Yet again, at the start of June, the Thatcher announced that they are increasing their capacity and accepting well over 10,000 people from the 21st of June.
While they keep increasing their capacity, the theater remains clear that they will work in line with the pandemic conditions in the state. They will still enforce all the rules, from social distancing to nose masks. They also set up dedicated rules within hot spots such as the restrooms, visitors center, and trading points. They also emphasize that they could reduce the capacity at any point if they find it too difficult to manage. Since there are so many shows lined up for the year, the theater has announced that its schedule will be subject to change at any time. This could be a result of the pandemic or the schedule of the artists.
For now, the theater is certain that live performances from Widespread Panic, Shakey Graves, and Death Cab for Cutie will all perform sometime within the year. This news alone has bumped up the expected crowd for the theater throughout its running schedule ending in November.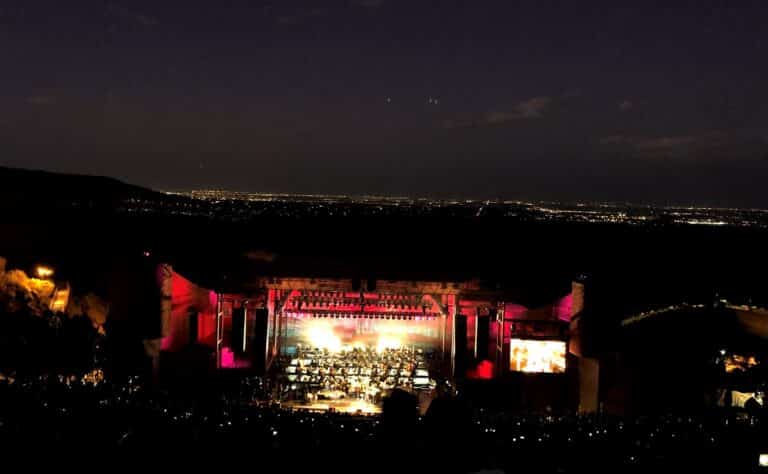 RED ROCKS 2021 CONCERT SCHEDULE
July 21 – Foreigner
July 23 – STS9 with Shpongle, MIZE
July 24 – STS9 with Tycho DJ Set, Chrome Sparks
July 29 – Brit Floyd
July 30 – Tedeschi Trucks Band with St. Paul & The Broken Bones, Gabe Dixon
July 31 – Tedeschi Trucks Band with St. Paul & The Broken Bones, Gabe Dixon
August 1 – Jason Isbell & the 400 Unit with Lucinda Williams
August 2 – Film on the Rocks: The Princess Bride
August 3 – Casting Crowns, Zach Williams, We Are Messengers, Cain, Brandon Heath
August 4 – Casting Crowns, Bethel Artists Brian & Jenn Johnson, Cory Asbury, Brandon Lake & Dante Bowe
August 5 – Dermot Kennedy with Bishop Briggs, Mallrat
August 8 – Joe Bonamassa
August 9 – Joe Bonamassa
August 10 – Wilco & Sleater-Kinney with Nnamdï
August 11 – Rufus du Sol
August 12 – Rufus du Sol
August 14 – Slightly Stoopid with Pepper, Common Kings, Don Carlos
August 15 – Slightly Stoopid with Citizen Cope, Fortunate Youth, The Hip Abduction
August 19 – 1964 The Tribute
August 20 – Big Wild with Bob Moses (Club Set), Crooked Colours, Mild Minds
August 21 – Reggae on the Rocks with Rebelution, Steel Pulse, Inner Circle, The Green, Israel Vibration, Keznamdi, Judge Roughneck, DJ Mackle
August 22 – Reggae on the Rocks with Rebelution, Steel Pulse, Third World, The Green, Mykal Rose, Keznamdi, Judge Roughneck, DJ Mackle
August 23 – Nathaniel Rateliff, Delta Spirit
August 24 – Nathaniel Rateliff, Delta Spirit
August 25 – Nathaniel Rateliff, Delta Spirit
August 26 – Louis the Child with What So Not, Elderbrook, Goth Babe
August 27 – Louis the Child with What So Not, Elderbrook, Goth Babe
August 29 – The Black Crowes
August 30 – The Black Crowes
September 2 – Rezz with Rusko, Lucii, Champagne Drip, Meso, sfam
September 3 – Rezz with I_o, Golden Features, Ivy Lab, X&G, Sara Landry
September 4 – Said the Sky
September 5 – Jonas Brothers, Kelsea Ballerini
September 7 – Jimmy Buffett and The Coral Reefer Band
September 9 – Jimmy Buffett and The Coral Reefer Band
September 10 – NEEDTOBREATHE, Switchfoot, The New Respects
September 11 – Brandi Carlile with the Colorado Symphony with Tanya Tucker
September 12 – Brandi Carlile with the Colorado Symphony with Tanya Tucker
September 13 – Death Cab For Cutie, Perfume Genius
September 14 – Alison Wonderland, Sidepiece, Elohim, Memba
September 15 – Alison Wonderland, Valentino Khan, Elohim, Moore Kismet, DJ Garth
September 16 – Bill Burr
September 17 – Greensky Bluegrass with Lukas Nelson & Promise of the Real
September 18 – Greensky Bluegrass with Circles Around the Sun
September 19 – Greensky Bluegrass with Railroad Earth
September 23 – Get the Led Out
September 24 – Rowdytown IX: Gigantic Nghtmre with GoldFish, Covex
September 25 – Rowdytown IX: Big Gigantic with Peekaboo, slenderbodies, Dreamers Delight
September 26 – Lake Street Dive with The Wood Brothers
September 27 – Lynyrd Skynyrd
September 28 – Modest Mouse, Future Islands
October 2 – 311, Iration, Iya Terra
October 3 – Mandolin Orange with The Tallest Man on Earth, Bonny Light Horseman
October 5 – Heilung
October 6 – Leon Bridges, The Marias
October 7 – Illenium
October 8 – Illenium
October 9 – Illenium
October 10 – Opiuo and CloZee with LSDREAM, Of The Trees, K+Lab
October 11 – King Gizzard and the Lizard Wizard with Leah Senior
October 12 – King Gizzard and the Lizard Wizard with Leah Senior
October 14 – Lane 8
October 15 – Lane 8
October 16 – Midland, Hailey Whitters
October 17 – Black Tiger Sex Machine
October 18 – Machine Gun Kelly, JXDN, Kenny Hoopla
October 22 – Above & Beyond
October 28 – Blackberry Smoke, The Allman Betts Band and The Wild Flowers
November 4 – Deadmau5
November 5 – Deadmau5
November 12 – Ganga White Night with Boogie T, SubDocta, Stratus B2B Walter Wilde, Computa B2B Matt Doe
November 13 – Ganga White Night with Mala, The Widdler, Ternion Sound, Khiva
November 14 – Ganga White Night with Caspa, TRUTH, Mr. Bill, Pushloop
Red Rocks Transportation
Red Rocks Transportation to this theater can be tricky, yet it is not impossible. Many of the easier options do not run through the theater line; however, there are some options that, although they may prove difficult, can still be used. The theater welcomes several people within the states and beyond; for those outsides of the states, you need to fly into the city. From there, you can make arrangements if you don't already have one made to get you to the venue. For those within the city, it is a lot easier to find your way to the location. There are a handful of routes to go about this for visitors from and outside the state.
Red Rocks Amphitheatre – Concerts and Transportation. First, consider driving yourself. Be it from the airport or your home, you can easily drive yourself to the venue. For those coming outside of the state, you can rent a car for the period. It is best to make this preparation ahead of time. Simply input the address of the theater into your GPS, and you are good to go.
The next option is to hire a Red Rocks transportation service. Those outside the state can decide on a car to pick them from the airport and drop them at their hotel and then at the theater. For those within the state using options like a rideshare, uber, or other private transport services, even a cab can work fine.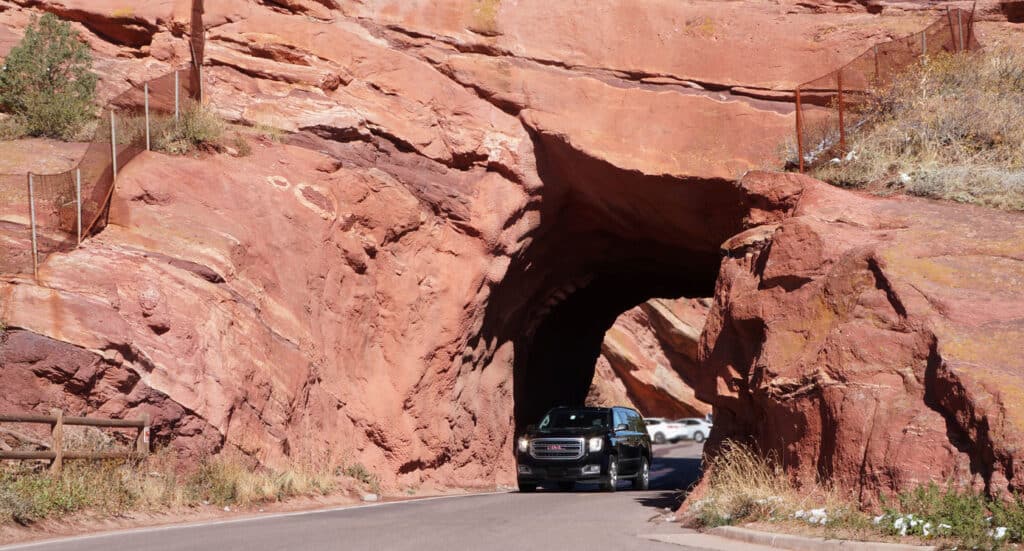 The third option is through a bus. Shuttles regularly take people to the theater, but you may need to check the nearest bus pickup spot to you. Shuttles like The Bus Party Colorado, The CID Shuttle to Red Rocks, and the Turtle Bus are all options that pick up tourists from around the state of Colorado.
One point to lay in mind is that all these transport options have a fee. Some are higher than the others, so it's best to know what they will cost. Most public options are at a cheaper rate, even for those coming from the airport. However, private transportation options will cost a lot more. The good thing about private options is that they are sometimes made for a large party of people; hence the fee can be split. Limos, private cars, and such will most times accommodate 3 to 15 people, which is a great way to break the cost.
The most popular destinations to and from Red Rocks Amphitheatre: Aurora, Parker, Arvada, Evergreen, Boulder, Highlands Ranch, Centennial, Denver, Castle Rock, Lakewood, Golden, Littleton, Vail, and Beaver Creek.
Private transports are much better for those outside the state since it's safer and more convenient. Using public transportation can be uncertain, which isn't suitable for those without knowledge of city routes. Make reservations with renowned tourist services like Powder Hound, Centennial Specialty Tour, and Silver Mountain Express will take up all of your lodging and transportation needs to provide more convenience and focus on the entertainment to come.