Silver Mountain Express Red Rocks Amphitheater Private Shuttle
Whether you are visiting Colorado for the first time or you live in the state and are needing reliable car service to and from Red Rocks Amphitheater, Silver Mountain Express can get you there. We provide reliable, customizable, and luxury transportation.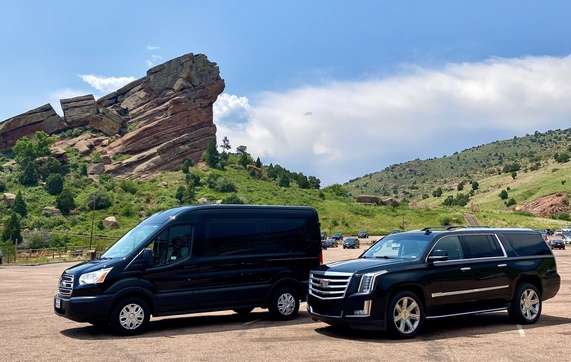 Private Transfer Red Rocks Amphitheater Cost
If you would like to hire a car for the time while you are at Red Rocks Amphitheater, you can hire one of our professional drivers for an additional hourly rate. We require a minimum of one hour for hire while you're at Red Rocks Concert and you can completely customize the experience based on your itinerary. One way trip from Denver Metro Area to Red Rocks Amphitheater starts from $200 for a Private SUV up to 5 passengers and $300 for a Private Van up to 7 passengers. We offer $50 OFF on Roundrips. If you prefer your driver to wait during the show you can always request it in advance for an additional $100 per hour.
RED ROCKS CONCERTS TRANSPORTATION RATES
| | | |
| --- | --- | --- |
| TO/FROM | SUV up to 6 pax | Van up to 7 pax |
| Arvada | $250 | $300 |
| Aurora | $250 | $300 |
| Boulder | $400 | $450 |
| Castle Rock | $400 | $450 |
| Centennial | $250 | $300 |
| Centennial Airport-APA | $350 | $400 |
| Colorado Springs | $400 | $450 |
| Commerce City | $250 | $300 |
| Denver | $250 | $300 |
| Denver Airport-DEN | $250 | $300 |
| Englewood | $250 | $300 |
| Evergreen | $400 | $450 |
| Fort Collins | $400 | $450 |
| Golden | $250 | $250 |
| Highlands Ranch | $250 | $300 |
| Littleton | $250 | $300 |
| Lakewood | $250 | $300 |
| Morrison | $250 | $300 |
| Parker | $250 | $300 |
| Thornton | $400 | $450 |
| Vail | $800 | $850 |
| Westminster | $400 | $450 |
| | | |
Book now
Visiting Red Rocks Amphitheater
Are you looking to visit Red Rocks Amphitheater? Silver Mountain Express provides service to and from the concert and conference venue.
Red Rocks is an outdoor music venue. It is located in Morrison, Colorado, only thirty minutes outside of Denver. It has the ability to seat over 9,000 visitors at once and is known for the breathtaking views you can experience while you are enjoying music provided by one of your favorite artists. The stars and Colorado countryside are visible from nearly every single seat in the amphitheater. Some of music's most iconic artists have played outside at this amphitheater. Fleetwood Mac and U2 are two of those. While many traditional rock and roll bands are famed for playing at the venue, today you will find a variety of different genres performing at the location. There is something for everyone. No matter what category your music taste falls into, there is something for you to check out at the location-not including the views.
If music and concerts are not usually up to your liking, there are plenty of other experiences you can have at the location. The venue regularly hosts comedians and if you are interested in yoga, Red Rocks Amphitheater offers sunrise yoga classes on the rocks. If films are what you are seeking out, the venue does offer regular film showings and if you are looking to get even more movement in, they offer Snowshape winter fitness classes as well.
The venue has additional on-site attractions outside of the concert venue. Be sure to check out the Red Rocks Music Hall of Fame and the Historical Trading post. The visitor center provides plenty of history and information about the creation of the venue if you are interested in discovering more about its history.
If you do not have music or other event scheduled at night, the location is also open for visitors during the day. You can spend time on the property around the venue. There are multiple hiking trails located over 6,000 feet above sea level. Some of them are available for bike riding and horseback riding for those that are interested in those activities. All offer spectacular views.
Silver Mountain Express Luxury Red Rocks Transportation
All that being said, Red Rocks Amphitheater is not something to miss while you are visiting Colorado. Silver Mountain Express can get you to and from the venue as you need. Silver Mountain Express has an access to all entries located at Red Rocks, so whatever you are needing for your private ride, we can easily provide.
If you are needing Red Rocks private shuttle from the Denver Airport or you are needing a private transfer from Red Rocks to the Denver Airport, we can provide that for you and offer a completely customizable trip and time of pick up.
Experienced Drivers and Luxurious SUVs
Our drivers are experienced, professional, punctual, and know their way around the Red Rocks area. If you need to adjust your arrival or departure time during your trip, you have the option to do so. The drivers will arrive at your location at the newly adjusted time.
Silver Mountain Express offers luxurious Vans and SUVs for you to choose from. You have the option for a luxury SUV that seats from 5 to 6 passengers easily. Our Luxury Van offers seating for up to 7 passengers.
Private Airport Transportation
Will you be heading straight back to the Denver International Airport after your visit to Red Rocks? We can accommodate your pick up and drop off. If your flight is delayed, they can adjust the itinerary to fit your newly adjusted needs. Silver Mountain Express offers airport pick services. If you arrive at DEN and in needing Red Rocks private shuttle, we can easily accommodate you and your flight schedule.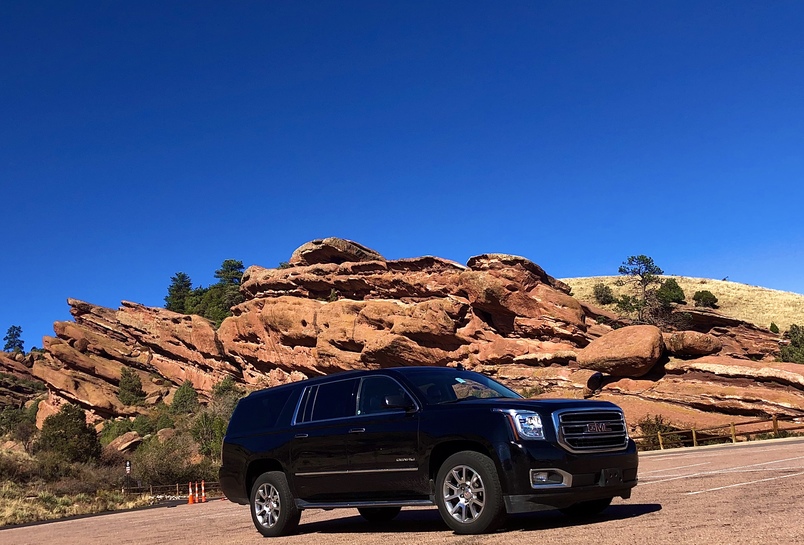 Book Private Shuttle Online with Silver Mountain Express
Silver Mountain Express offers a 72-hour cancellation policy, the ability to pay online, and 24-hour service. Your arrival and departure to Red Rocks Amphitheater and other locations around the state should not be something you need to spend time worrying about or meticulously arranging yourself. With Silver Mountain Express as your private shuttle or car service, you will be able to spend your time focusing on what you need or want to at your future destination. Silver Mountain Express has the ability and the experience to provide you with the type of travel accommodations that you will find yourself scheduling every time you need a private shuttle throughout the state of Colorado.
You can utilize their easy-to-use booking feature on their website. The platform allows you to completely customize your pick up and drop off and select the type or size of the vehicle that you desire right on the page.
When you book your private shuttle with Silver Mountain Express, you are getting a luxurious, reliable, and stress-free method of travel to and from Red Rocks. Our online booking platform is easy to use and if anything needs to be adjusted after the trip is booked, we can accommodate that. The simplicity and reliability of a service like this makes a trip to Red Rocks Amphitheater all the more exciting.