Visit Estes Park, Colorado
Estes Park is a resort-style mountain town in Larimer County, Colorado. It is best known for its incredible mountainous scenery, wild elks, and its huge range of activities for all ages. In this outdoor escape, you can expect rocky landscapes and beautiful wildlife that will calm and inspire the soul.
The best part about Estes Park is that it offers fun all year round. Whether you're visiting in the warmer or colder months, there are many events, nature walks, and activities to pick from.
In this article, we will be breaking down our favorite activities/attractions, so you can be sure your visit to Estes Park will be fun and full of memories!
Best Activities & Attractions in Estes Park, Colorado
If you want to have an incredible trip in the mountains, here is our list of the best activities to get involved in while visiting Estes Park.
Tour the Area in a Rented Jeep/ATV
One of the most popular activities here is renting a Jeep or ATV to take you around the rocky terrain! It's a fantastic way to see the area without getting tired from walking, and if you love driving it's an unforgettable experience that will test your skills. You'll get amazing views of the wildlife and tree-lined hills, and if you're lucky you'll find wild elk too!
Enjoy the Rocky Mountain National Park
This is the most well-known landmark in Estes Park and for good reason. The Rocky Mountain National Park has over 300 different walking trails, each offering their own blend of natural beauty. You can expect rivers, forests, tons of wildlife, and the world-famous mountains. You can also do outdoor activities such as skiing, snowboarding, and water rafting.
Visit the Open Air Adventure Park
This aerial park is a great way to blow off some steam and do some group bonding with your friends/family. The 90-minute long escapade includes challenges such as rope bridges, aerial tightropes, swinging log steps and moving platforms! Make sure to book in advance, as this is a highly popular part of Estes Park.
Make Memories at the Creativity Cabin
For all the artistic tourists out there, the Creativity Cabin is the place to go! This is an all-ages painting workshop where friends and family can decorate ceramics, canvas, and wood. Once you're done you can take your creations home and keep them as a souvenir from your trip!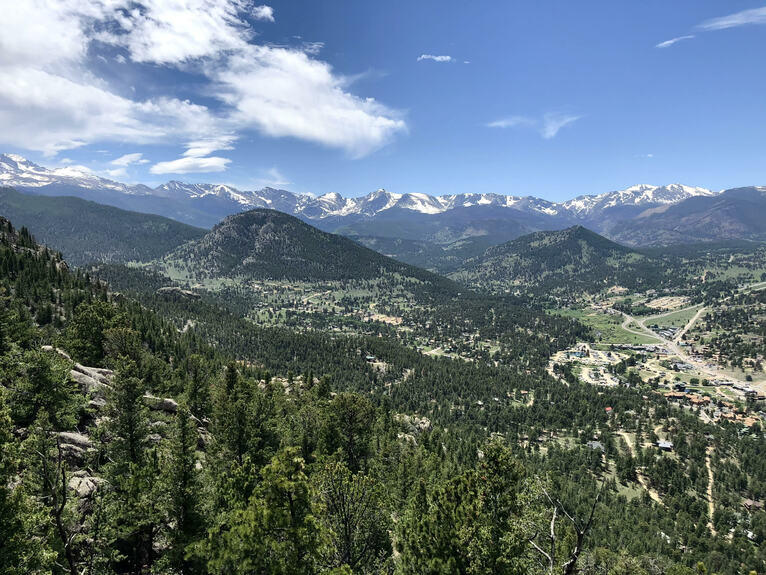 Go on Hikes with Incredible Mountain Scenery
There are so many different walks to choose from at Estes Park, but here are four of our favorites:
Lily Lake (0.8 miles) – on this hike you will get to see gorgeous Aspen trees along with the iconic Twin Sisters, Lily Mountain, and Longs Peak. This is a beginner-friendly and wheelchair-accessible hike, as the terrain is wide and flat. The walk takes 30 minutes to complete.
Lake Estes Loop (3.8 miles) – this trail loops around Lake Estes, and on the way, you will see forest scenery, a dam, and meadows. Walkers also regularly spot herds of elk on this trail! This walk will take 2 hours to finish.
Dream Lake (2.2 miles) – as the name suggests, this walk is truly relaxing. It takes you through the woody, uphill region past landmarks Nymph Lake and the Keyboard of the Winds Ridge, before ending at Dream Lake. This walk is 1-2 hours long. Please note you will need to access the Rocky Mountain National Park for this walk, which will cost $25.
Crosier Mountain via Garden Gate Trail (10.2 miles) – this is the most challenging walk on our list, but the views are undoubtedly worth it. On this hike, you can expect meadows, rocky inclines, and views of the famous Indian Peaks. It will take between 5-6 hours to complete.
Visit the Haunted Stanley Hotel
This is one of the most famous hotels in America, as it is linked to Stanley Kubrik's The Shining. The hotel is listed on the National Register of Historic Places, and many believe it is a haunted site. As you journey through the spooky hotel, you'll see that each of the rooms plays an uncut version of the film, stuck in an eternal loop. The hotel's architecture is striking, and its 35 acres of land are located in the beautiful Rocky Mountains.
Soar over Mountains in the Estes Park Aerial Tramway
When you visit Estes Park, don't miss out on the Aerial Tramway. This takes you up to a 9,000-foot elevation up Prospect Mountain, allowing you to see unmatched views. It's a great opportunity to take some holiday pictures and relax as you are carried up one of the most beautiful mountains in the world. Please note the Tramway only runs from Memorial Day to Labor Day.
Travel through Elkhorn Avenue and Moraine Avenue
These two charming roads are located in downtown Estes Park and offer a relaxing shopping experience for tourists. There are over 200 quality shops to choose from, as well as exceptional restaurants and cafes. You can spend a peaceful afternoon exploring the area and treating yourself to some Estes Park memorabilia!
Ride Horses in the Mountains at Jackson Stables
Located in the scenic Rocky Mountains National Park, the Jackson Stables offer an exciting horse-riding experience. Whether you're a beginner or an experienced equestrian, Jackson Stables will be able to cater to your needs. The rides can last as long as you prefer, some are just an hour long, while others take up the whole day. You can also expect family-friendly activities like hayrides, pony rides, and s'mores by the fire!
Ultimate Weekend Guide to Estes Park, Colorado – Final Thoughts
We hope we have helped you to discover the range of exciting activities available at the beautiful Estes Park, Colorado. Visiting Estes Park offers a chance to get away from the business of the world, and enjoy the peace that only the forest and mountains can provide.
Thank you for taking the time to read our article today!