Introduction: As summer bids adieu and autumn takes center stage, Colorado transforms into a captivating canvas of vibrant hues. The changing leaves paint the landscapes with shades of gold, crimson, and amber, creating a breathtaking spectacle that's nothing short of magical. If you're in search of the best spots to witness this natural masterpiece, look no further. We're about to embark on a journey through Colorado's most enchanting destinations for experiencing the awe-inspiring phenomenon of changing leaves.
1. Maroon Bells – Aspen: A Quiver of Aspens: Nestled near Aspen, the Maroon Bells offer an iconic fall foliage experience. The sight of aspen trees turning brilliant shades of yellow and orange against the backdrop of the majestic Maroon Lake is a photographer's dream come true. Take a leisurely stroll around the lake or embark on one of the scenic hiking trails for an up-close encounter with nature's artistic palette.
2. Rocky Mountain National Park: Nature's Symphony in Estes Park: Prepare to be spellbound by the symphony of colors that Rocky Mountain National Park orchestrates. Drive along the Trail Ridge Road for breathtaking vistas that stretch as far as the eye can see. As you wind through alpine tundra, lush meadows, and dense forests, you'll witness the landscape transform into a kaleidoscope of autumn shades.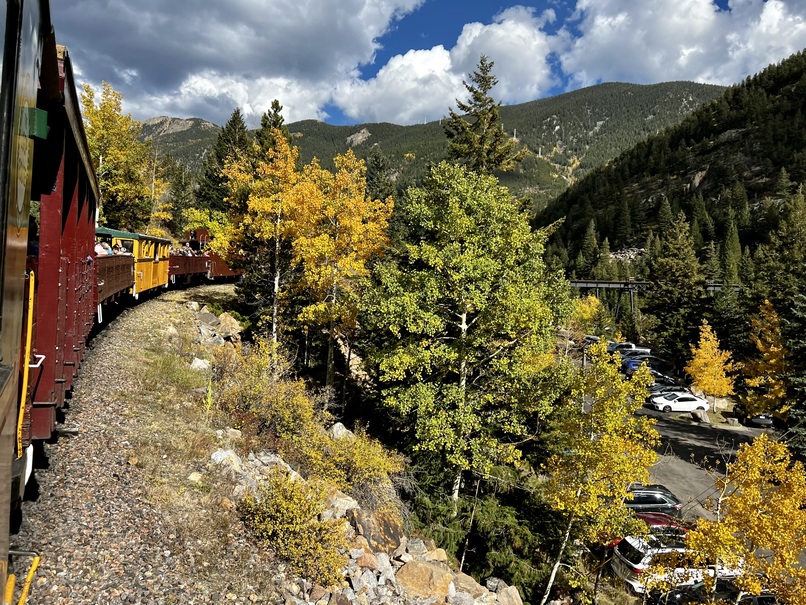 3. Georgetown Loop Railroad in Georgetown, Colorado: The historic town of Georgetown sets the stage for this captivating escapade. Nestled amidst the Rocky Mountains, this charming destination serves as the gateway to a scenic train ride that will take you through some of the most breathtaking landscapes Colorado has to offer. The Georgetown Loop Railroad, with its vintage steam locomotives and meticulously restored carriages, is more than just a means of transportation – it's a time capsule that transports you back to the golden age of railways. As you chug along the tracks, you'll be treated to vistas that seem like they're straight out of a postcard. The changing leaves create a picturesque backdrop that's hard to resist capturing on camera. The train's leisurely pace allows you to savor every moment, every curve, and every glimpse of nature's artwork as it evolves before your eyes.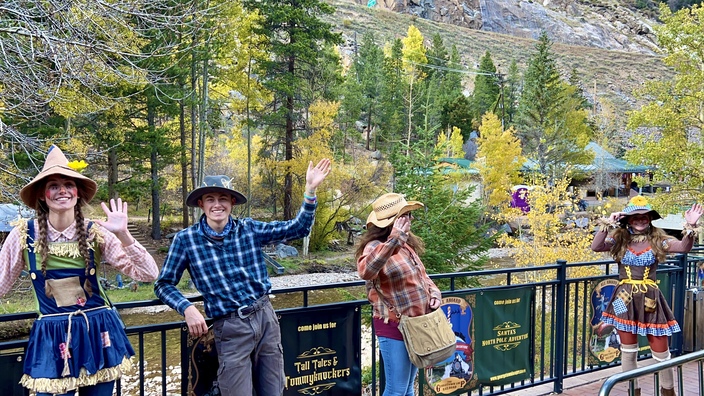 4. San Juan Skyway: A Scenic Drive through Durango: If you're a fan of road trips, the San Juan Skyway is your ticket to leaf-peeping paradise. This 236-mile loop takes you through charming towns, jaw-dropping mountain passes, and towering cliffs adorned with fiery foliage. The Million Dollar Highway section is particularly renowned for its dramatic fall vistas.
5. Kebler Pass: A Canopy of Color in Crested Butte: Crested Butte's Kebler Pass boasts the largest aspen grove in North America, earning it the moniker "Colorado's Grandest Mesa." The sight of countless golden aspen leaves stretching as far as the eye can see is a sight to behold. Whether you choose to drive, hike, or bike, this enchanting location promises an unforgettable leaf-peeping experience.
6. Kenosha Pass: A Gateway to Autumn in Jefferson: Just an hour from Denver, Kenosha Pass beckons with its postcard-worthy scenery. The Colorado Trail guides you through thick aspen groves, treating you to panoramic vistas of the changing landscape. Whether you're a seasoned hiker or just looking for a leisurely stroll, Kenosha Pass offers an accessible and mesmerizing fall adventure.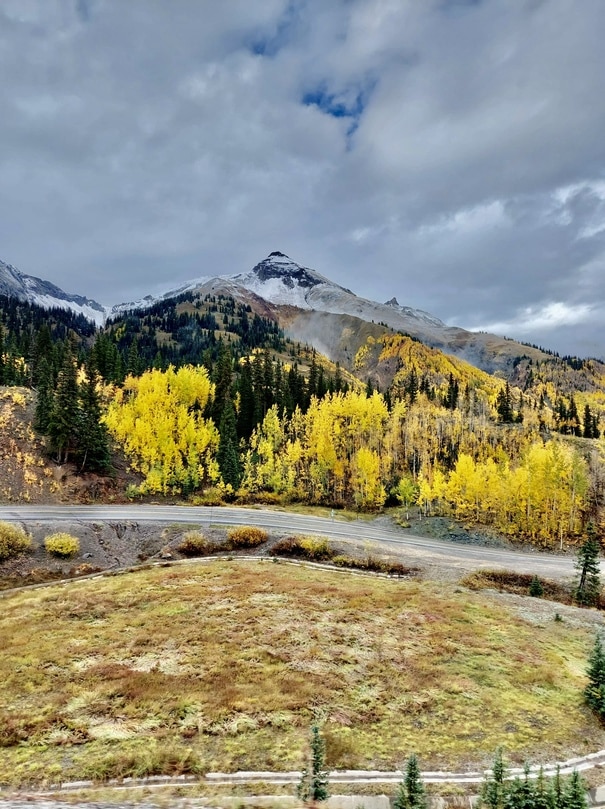 7. Million Dollar Highway in Telluride: Driving along the Million Dollar Highway in the fall is like navigating through a painting brought to life. Each curve reveals a new tableau of colors as if the mountains themselves are celebrating the changing of the seasons. The crisp mountain air carries the scent of pine, enhancing the sensory experience of your journey. The allure of this highway isn't limited to its visual splendor. As you navigate its twists and turns, you'll encounter pull-offs that invite you to immerse yourself in the beauty that surrounds you. Capture the moment with photographs that will forever capture the essence of fall in Telluride.
Conclusion: A Spectacular Autumn Symphony: Colorado's changing leaves season is nothing short of a masterpiece painted by Mother Nature herself. From the quivering aspens to the sweeping vistas, each destination on our list offers a unique and unforgettable experience. As autumn sweeps across the state, these places come alive with a symphony of colors that ignite the senses and create lasting memories. So, pack your camera, lace up your hiking boots, and embark on a journey through Colorado's most breathtaking fall foliage spots. The canvas is ready, and the spectacle awaits – the changing leaves of Colorado are a sight you won't want to miss.