Silverthorne is one of the nicest towns to live or visit in Colorado. It has an abundance of mountains and wilderness. Meanwhile, it is also a bustling urban community of over 4000 residents. You can get a shared shuttle, private transportation, or bus to get to the town from the Denver International Airport.
With the historic Mint steak house, the beautiful Blue River Trail, and the skiing grounds during winter, Silverthorne has a lot to offer its residents and tourists. Read on to make the most of your Silverthorne days.
Types Of Transportation Available to Silverthorne, Colorado
There are essentially three types of transport options available for travelers in Silverthorne. You can take a shared shuttle, private transportation, or a bus to travel from the Denver International Airport to this town in Summit County. Let's review these options.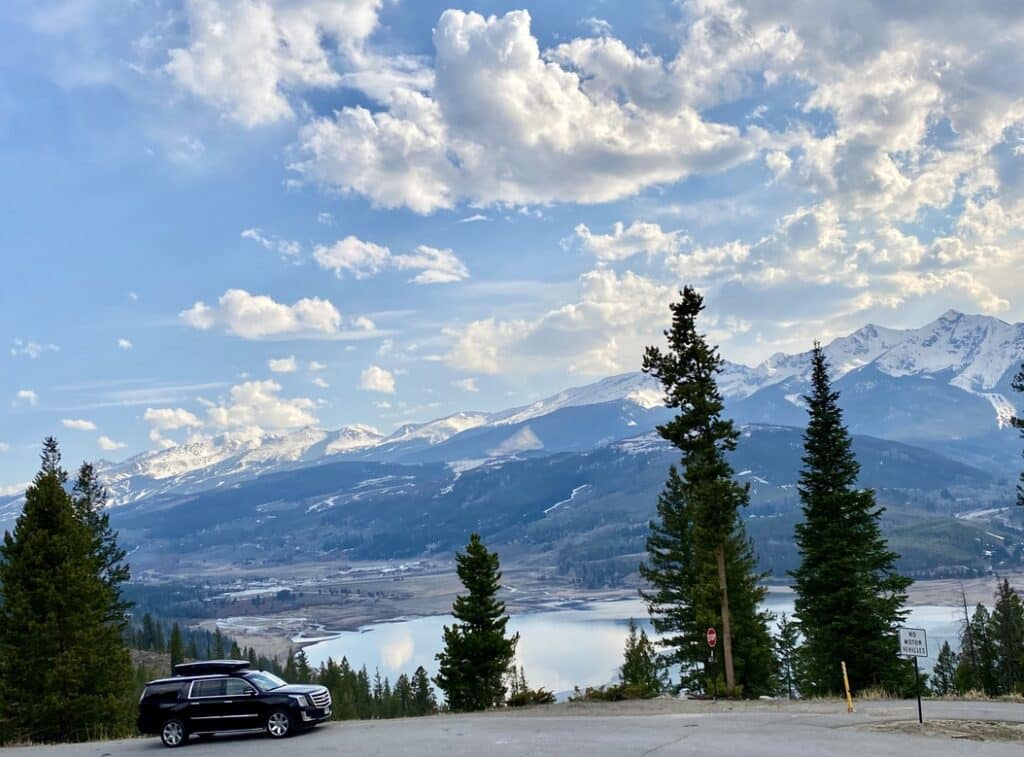 Shuttle Service
The shuttle is the most popular way to travel from DIA to Silverthorne. By choosing a shared shuttle be ready to spent longer time on the road, since you will stop at each hotel. Among all the available shuttle services, Epic Mountain Express provides some of the best transportation.
It usually takes around two hours for a shared shuttle to travel from DIA to Summit County by shuttle. Plus, the Epic Mountain Express shuttle trails are as alive in the raging winters as they are during the winter.
You can choose between shared shuttle rides and private ones. For instance, shared shuttles deliver passengers on a door-to-door basis. And it is available both from DIA and Vail airport. However, private shuttles can be an excellent option for groups. Epic Mountain's private shuttles can provide room for 12 passengers.
When you choose Epic Mountain Express shuttle services, you need to worry about a flight delay. Even if they have multiple shuttles leaving the airport at all times of the day they might be booked.
Book Your Denver to Silverthorne Shuttle Today!
Car Service
Car Service is the best way to travel to Silverthorne. If you are not in a hurry and want to enjoy a ride through Colorado, then a car service is what you should choose. It takes approximately 90 minutes to cover the distance between DIA and Silverthorne if you are using a car service.
Silver Mountain Express offers excellent car service to Silverthorne. When you choose Silver Mountain Express there's no need to worry about a flight delay. The company and your driver are always monitoring flights and making adjustments to make sure none of your precious time is wasted.
You can book the private SUVs that come with a highly trained and skillful chauffeur. These SUVs permit up to five guests and drop you at your precise destination.
Booking a ride with Silver Mountain Express is very easy.
Bus Service
Traveling by bus is your cheapest option to Silverthorne. You can find bus rides that cost as little as nine dollars. However, this is the lengthiest journey you can make from the Denver Airport to Silverthorne. Typical rides can keep you on the road for as long as three hours or more.
Still, bus rides are not a bad option if you are short on budget but have plenty of time. Also, you can expect a bus to leave the airport every 30 minutes.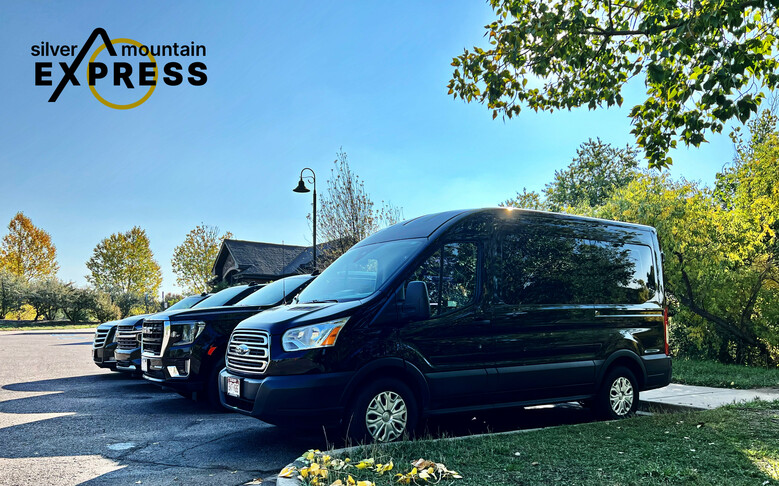 Top Places To Visit In Silverthorne, Colorado
Silverthorne is a place enriched with both natural beauty and culture. So, you can divide your time between visiting the wild and adventurous spots and the urban sites like famous hotels, malls, and theaters. A shared shuttle, private transportation, bus, or any other form of car service can deliver you to these places.
White River National Forest
The White River National Forest is a great spot to taste the wilderness in Silverthorne. It is just outside the town and offers more than two million acres of forest land to satisfy your palate for adventure.
In the summer, hiking and biking are two of the most popular activities. Meanwhile, during the winter, it becomes an ideal skiing ground.
At White River, tourists can stay at any one of the camps dispersed throughout the forest. However, the Blue River Campground is the best among them. There are more than twenty campsites here, complete with fire pits and picnic tables.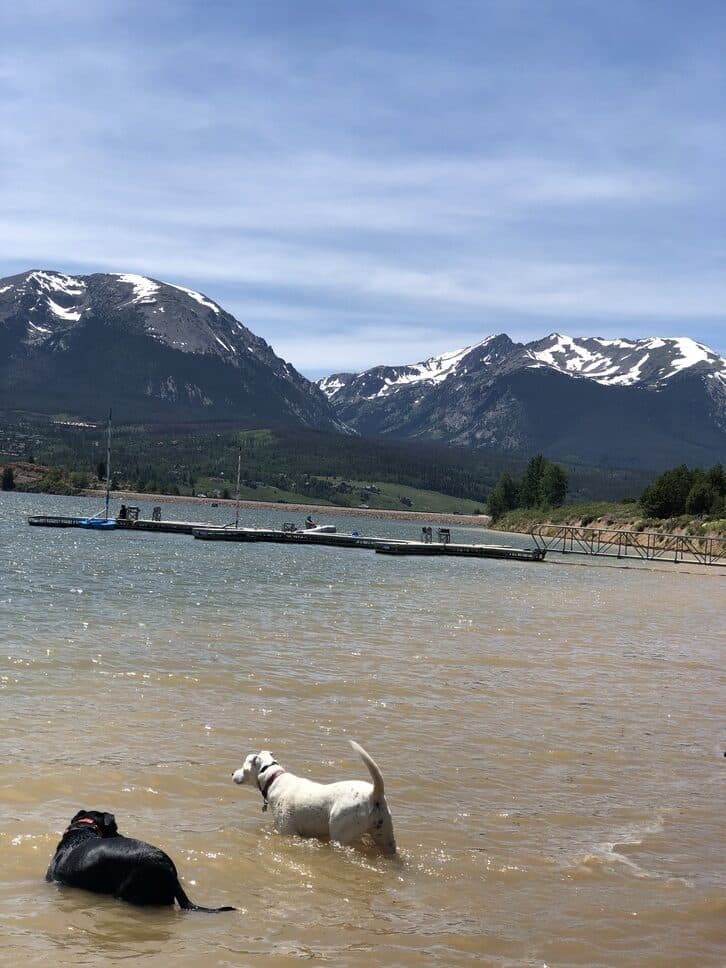 Lake Dillon
If you want someplace with water, then the Dillon reservoir or lake Dillon is where you want to be in Silverthorne. You have to travel to the south of the municipality to get there. Lake Dillon has a 27-mile-long shoreline with plenty of relaxing sandy beaches
Being a lake, the most obvious things to do at Dillon are fishing, boating, and water sports. You can rent boats and also take sailing classes. Those who aren't that used to fishing can opt for guided fishing. Common prey in these waters are salmon char, rainbow trout, and catfish. Make sure you have a fishing license to fish in the lake.
Lake Dillon has become a complete tourist spot with its awesome restaurants, bars, picnic tables, campgrounds, and restrooms. So, although you will be living in the wilderness, you can still enjoy the parks of urban life.
Performing Arts Center
Silverthorne is home to the famous Lake Dillon Theater Company. You can catch their shows at the Silverthorne performing arts center. Tickets for these live performances are available online.
Alongside the theater, this arts center also hosts various events for social and cultural interaction. Plus, you will find a full bar, kitchen, and leisure spots at this center. If you want to have some fun with culturally motivated people and artists, the Silverthorne Performing Arts Center is your place.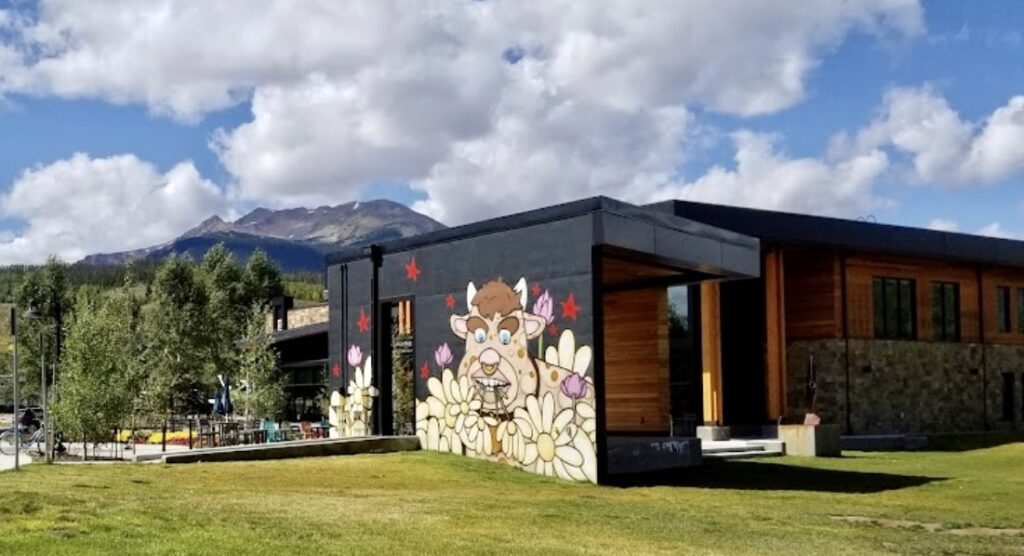 Outlet Shopping
Silverthorne has great offerings for shoppers too. You can visit the Silverthorne Outlets at the 1-70 and highway six intersection. It's a huge outdoor mall that hosts over fifty stores under one roof. And because these are outlet stores, you can save up to 50% when you shop here.
The Outlets at Silverthorne are home to most of the popular brands. You can find American Eagle, J Crew, Coach, and others. And when you are tired from browsing the stores, refresh yourself at one of the many restaurants. You can find McDonald's and other popular chains at the Silverthorne Outlets.
Mint Steakhouse (Since 1862)
The Mint is the oldest restaurant in Colorado. It has been in business for over a hundred and sixty years (since 1862). Therefore, it is an attraction for both food and history enthusiasts. At the Mint, the customers cook their meat over a lava rock grill. Alongside being a fun activity, this also lets the restaurant serve steaks at a much cheaper rate.
Besides steaks, there are also chicken and seafood options. Plus, the restaurant offers you unlimited salad and bread with your dish. You can also try their bar which serves excellent bottled and draft beers.
Best Things To Do In Silverthorne, Colorado
Silverthorne offers a variety of natural scenery. There are mountains, forests, lakes, rivers, and snow. As a result, your options for activities are not limited. However, the season plays a big role in what you can and cannot do.
Hiking
The abundance of forests and mountains in Silverthorne offers a lot of hiking trails for its visitors and residents. However, the best time to go is during the summer when you can see the region's renowned lush green forest. Plus, the trails are safer and have fewer obstacles during summer.
Some of the highly recommended hiking trails in Silverthorne are the Continental Divide, Blue River, and Minnie Mine trails. If you are visiting White River National Forest, you can choose from three hundred hiking trails that make their way through the wilderness.
Biking
Another popular summer activity is biking. Besides improving your fitness and preserving nature, biking is also the perfect way to take in all the raw natural scenes of beautiful Colorado.
Silverthorne is a bike-friendly town. There are frequent biking events held across the city. Essentially, Silverthorne urges its dwellers and tourists to prefer biking more. The well-paved Blue River Trail can be one of the ideal places to bike. Or, you can choose the Rec path, a long continuous Recreational Pathway System.
Rafting and Fishing
You can't help but take advantage of the flowing Blue River right through the middle of the town. There are many small and big fishing spots along the trail. From here you can catch fish and take selfies with your freshly caught trophy.
If you are keen on getting wet, then a rafting trip is something you can take part in. You can look into the Blue River Express package offered by Arkansas Valley Adventure. You should know that you cannot get into a raft without the proper safety gear (life jackets, helmets, etc.).
Skiing
Winter turns Silverthorne into one of the best skiing grounds in the world. You can easily find a shared shuttle or private transportation to reach these spots. And upon arrival, you can choose from a fairly large number of ski resorts. Keystone and Copper Mountain are two notable resorts in this area.
You can also try cross-country skiing at the Mesa-Cortina Trail. The path ends at Willow Creeks Falls. Aside from skiing, you can also enjoy a beautiful sight which is the waterfall. This skiing trail also offers a marvelous view of lake Dillon and the Fork Range. This close to ten miles of skiing might be the perfect Silverthorne activity for enthusiasts.
However, if you are a beginner and ten miles of skiing seems too much, you can try the Boulder Fields Loops. This comparatively smaller skiing ground expands a little over two miles and gains an elevation of around three hundred feet. When planning a ski trip to Boulder Fields, don't forget to bring a map given that this is an unmarked trail.
Book Your Denver to Silverthorne Shuttle Today!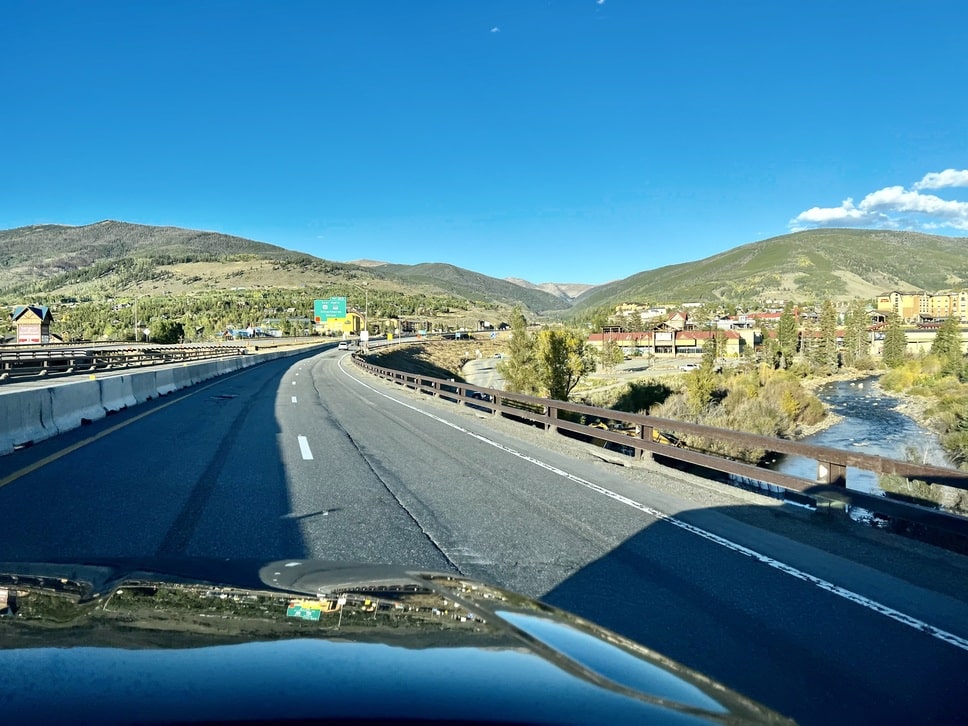 Those coming to Silverthorne, Colorado the first time might worry about transportation in this wild and mountainous area. But you will find affordable services that offer non-shared shuttles and private transportation.
So, start planning a trip right now and make your booking today.
Frequently Asked Questions
How long does the shuttle from Denver Airport to Silverthorne take?
The driving time from Denver International Airport to Silverthorne is around 1 hour and 30 minutes when conditions are perfect. Depending on local weather and traffic patterns, it can take longer on occasion.
What kinds of vehicles are used for the Den to Silverthorne shuttle?
Our fleet is comprised of well-maintained luxury vehicles, including sedans, vans, and SUVs. If you reserve a shuttle to Silverthorne from Denver, we'll provide the best vehicle for the job, depending on the number of people in your party and the amount of luggage and recreational gear you bring.
How often does the shuttle from Denver to Silverthorne run?
Because our shuttle services are private, we will operate around your schedule. We're happy to provide transportation every day of the week, and we can handle pickups and drop-offs at any hour of the day or night. We recommend making your reservation at least 12 hours in advance. For any last-minute reservations, please call us at (720) 440-4202. Our dispatch office is open 24/7.
Can my Den to Silverthorne shuttle stop at grocery stores, liquor stores, or dispensaries on the way so I can stock up on supplies?
Absolutely! We want to ensure you have everything you need to enjoy your stay in Silverthorne. We only ask that you arrange all stops in advance. The fee for additional stops starts at $180/hour.
How experienced are your drivers?
The shuttle from Silverthorne to Denver is our most popular route, which means all our professional drivers are highly experienced and know the roads well.
If my flight is delayed or canceled, will you still be able to accommodate my party?
Please call or text your driver as soon as you learn that your schedule has changed. If the driver does not confirm receipt, please call our customer service line at (720) 440-4202. Please note that scheduling changes can result in additional charges.
What is your cancellation policy?
If you need to cancel your shuttle from Denver to Silverthorne for any reason, please call (720) 440-4202 as soon as possible. If you cancel less than 72 hours before the prearranged pickup time, a fee for the full charge for the service will apply.
Do you provide car seats or booster seats?
Yes! There is no need to lug a bulky car seat on your flight. Simply request one in advance, and we'll make sure to provide it in your vehicle free of charge.
Is smoking allowed in your vehicles?
For the health and comfort of all our clients, we prohibit smoking in our vehicles. If any passenger smokes while inside the vehicle, a cleaning fee of at least $300 will apply in addition to the cost of repairing any smoke-related damage.
Are pets allowed in your vehicles?
We know furry friends are part of the family, so we're happy to accommodate them. Please let us know in advance if you'll be bringing any pets.