If you are visiting Denver or are enjoying a weekend out on the town and attending concerts or music events, let us provide you with safe, luxury transportation to and from all of your essential events. When you have planned for a full night out enjoying your favorite musician or artist, you want to have a good time, and worrying about safe and reliable transportation should not have to be at the forefront of your mind.
We can get you to and from your concert or event safely and on time in one of our luxury vehicles. If you plan on attending additional events or checking out clubs and bars before or after your music event, we can easily add that to your itinerary as well. Let us take care of the planning and you can enjoy a luxury transportation experience that includes:
VIP experience
No need to worry about parking at the venue
Professionally trained chauffeur
Luxury seating and accommodations
Affordable pricing and hourly services
When you book your evening transportation with us, you receive all of that and guaranteed on-time arrival. You can customize your experience and arrive as early as you would like. We provide transportation services all around the Denver area, so it does not matter what venue your music event is at. We can take you there. Venues we highly recommend that we regularly transport clients to include: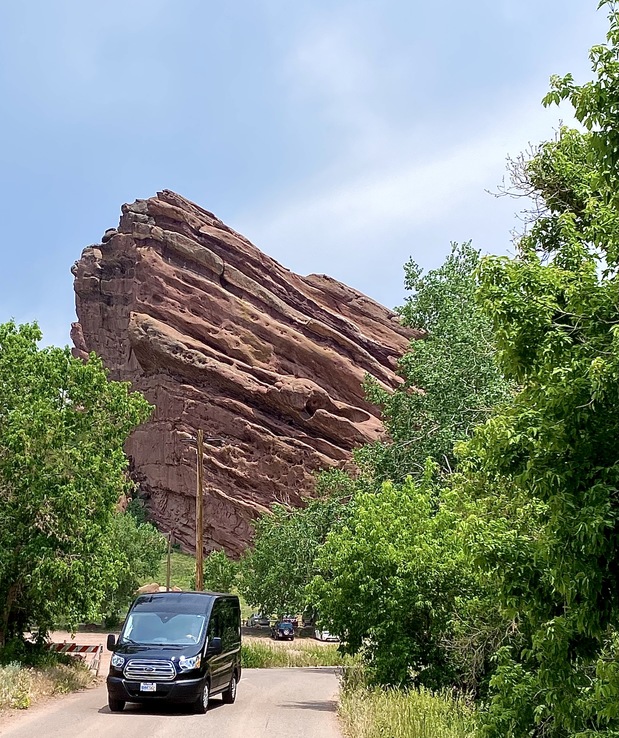 Red Rocks Parks & Amphitheatre
This is an open-air amphitheater that is built into a rock formation in the mountains. It is a popular venue for music and when you attend an event here, you can watch the sunset and the sky as you enjoy your favorite artist. There is food and a restaurant available on site and you can visit the location even if a concert is not taking place.
Located: 18300 W Alameda Pkwy, Morrison, CO 80465
Ball Arena
Ball Arena previously known Pepsi Center. This music venue is also home to Denver's basketball team, the Denver Nuggets, but is a hot spot for the world's biggest artists and superstars to perform as well. It was founded in 1999 and can hold a capacity of 20,000. Listening to your favorite music surrounded by 20,000 people who also love that music is an amazing life experience that many do not get to experience often. You can have all of that and more at music events and concerts at the Pepsi Center.
Located: 1000 Chopper Cir, Denver, CO 80204
Fiddler's Green Amphitheater
Another open-air amphitheater, Fiddler's Green hosts a wide variety of massively popular artists and performers such as Dead and Company and Zac Brown Band. It has a capacity of 18,000 and is located in Greenwood Village — about 25 minutes away from the heart of Denver. The drive out to this venue is well worth it- a view not unlike Red Rocks Amphitheater, you are surrounded by one of the things Colorado does best: The Great Outdoors.
Located: 6350 Greenwood Plaza Blvd, Greenwood Village, CO 80111
Hudson Gardens & Event Center
This location not only offers ample concert space for a group of 3,000 devoted fans but also has over thirty acres of trails and gardens as well. Weddings are regularly hosted here as the views are ideal. This space is only located a few minutes from Denver's Downtown area, so if you plan to stay in the heart of the city, this location will be a brief drive to and from for you. They also regularly host theatre and plays and if you are in the mood for a light spectacular around Christmas time, Hudson Gardens can check that off of your list for you.
Located: 6115 S Santa Fe Dr, Littleton, CO 80120
Fillmore Auditorium
An older event venue, founded in 1907, Fillmore Auditorium is located right in the heart of Denver, down the block from the state capital. Before becoming a music venue it was a flea market, carwash, indoor ice rink, and a nightclub. It has a capacity of almost 4,000 and offers a wide variety of music experiences, from country to hip hop. It is a close air building, so it offers an intimate feel even with the large capacity.
Located: 1510 N Clarkson St, Denver, CO 80218
Ellie Caulkins Opera House
Otherwise known as "The Ellie" the classically created venue is located at the Denver Performing Arts Center and offers a regular schedule of opera, theatre, ballet, and other classic-style art events. The venue has a capacity of over 2,000 and was originally founded in 1908. Located right in the heart of downtown Denver, it is close to many other desirable event venues, restaurants, and bars.
Located: 1385 Curtis Street, Denver, CO 80204
The Mission Ballroom
The Mission Ballroom is a concert venue located in Rino neighborhood of Denver, Colorado. The building opened in August 2019 with a capacity of nearly 4,000. Operated by AEG Presents Rocky Mountain. The space is also designed with a moving stage to accommodate crowds of 2,200 to 3,950. Each configuration can utilize a large dance floor area for general admission, with reserved seating allocated on both sides of the stage.
Located: 4242 Wynkoop St, Denver, CO 80216
Empower Field at The Mile High
With a massive capacity of over 76,000 people, this sports event center regularly hosts games for the Denver Broncos and the Denver Outlaws. Located right in the heart of Denver, it was founded in 2001 and hosts the biggest names in music when they go on tour. It has hosted Metallica, Guns N' Roses, Taylor Swift, and regularly hosts massive country stars such as Thomas Rhett and Kenny Chesney.
Located: 1701 Bryant St, Denver, CO 80204
Whether you are attending a massive concert with 75,000 other people or you are attending a slightly smaller event with only one or two thousand in attendance, you need reliable transportation. You want to be able to completely enjoy all that the music and concert venue has to offer without a care in the world about how you will get back to your hotel or home safely when the concert is over. We can take care of all of this for you, so you can fully enjoy the experience. We will arrive on time to pick you up, whatever time you decide and our expertise in the area can have you at your venue whenever you decide you want to arrive. Whether that is early or just on time. When the event is over, we wait for you in an easily accessible area and you will have no difficulty finding us in the swarms of people also exiting the concert venue.
Whether you are from Denver and this is just a night out on the town, or you are visiting Denver for the first time, you deserve all that your concert and night out have to offer. Let us take care of you and your transportation with our reliable, safe, and luxury service offerings.