Convenient and Comfortable Eagle Private Transportation with Silver Mountain Express
Traveling from Eagle, Colorado to Denver Airport can be a stressful experience, especially when dealing with crowded shuttles or unreliable public transportation. However, there is a solution that provides comfort, convenience, and peace of mind – private transportation with Silver Mountain Express. In this blog post, we will explore the benefits of choosing Silver Mountain Express for your journey from Eagle to Denver International Airport.
A Reliable and Punctual Service:
One of the top reasons to opt for private transportation with Silver Mountain Express is their commitment to reliability and punctuality. Their professional and experienced chauffeurs understand the importance of timely arrivals and departures, ensuring that you reach the Denver Airport on schedule. With their extensive knowledge of the routes and traffic patterns, they can efficiently navigate the journey, minimizing any potential delays.
Comfortable and Luxurious Vehicles:
Silver Mountain Express boasts a fleet of comfortable and luxurious vehicles to enhance your travel experience. Whether you're traveling alone or with a group, their spacious and well-appointed vehicles provide a relaxing and enjoyable ride. From luxury SUVs to spacious Vans, their vehicles are meticulously maintained and equipped with modern amenities to ensure your comfort throughout the journey.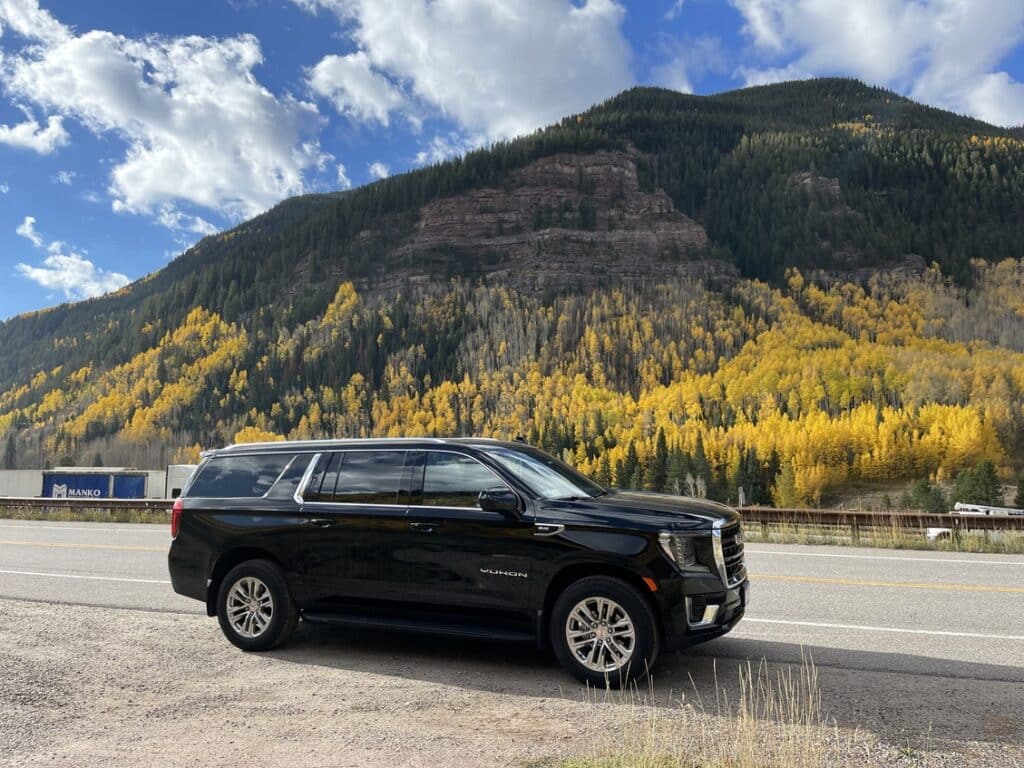 Door-to-Door Convenience:
Say goodbye to the hassle of coordinating transportation from your location in Eagle to the Denver Airport. With Silver Mountain Express, you can enjoy the convenience of door-to-door service. Their professional chauffeurs will pick you up from your desired location in Eagle and drop you off directly at the Denver Airport, eliminating the need for transfers or additional transportation arrangements. This seamless and stress-free service allows you to focus on your journey without any unnecessary logistics to worry about.
Flexible Scheduling:
Silver Mountain Express understands that travel plans can change, and they are dedicated to accommodating your needs. Whether you require an early morning departure or a late-night pickup, they offer flexible scheduling options to match your itinerary. By providing your preferred date and time, their team will work diligently to arrange the transportation that suits your schedule.
Safety and Peace of Mind:
When it comes to private transportation, safety is paramount. Silver Mountain Express prioritizes the well-being of their passengers and adheres to strict safety standards. Their vehicles undergo regular maintenance and are equipped with the latest safety features. Additionally, their chauffeurs are experienced professionals who undergo rigorous training and background checks, ensuring your peace of mind throughout the journey.
Why Choose Silver Mountain Express for Eagle Private Transportation?
Efficiency: We understand that time is of the essence. With Silver Mountain Express, you can count on punctuality and efficiency. Our skilled chauffeurs are well-versed in navigating the routes, ensuring you reach your destination on schedule.
Luxurious Fleet: Our fleet of vehicles is a testament to our commitment to comfort. From spacious SUVs to well-appointed Vans, every vehicle is meticulously maintained, offering a luxurious and pleasant environment throughout your journey.
Personalized Service: We believe that every traveler is unique. Our private transportation service is tailored to your specific needs. Whether you're traveling alone, with family, or as a group, we have the perfect vehicle to accommodate your requirements.
Safety First: Safety is our top priority. Our experienced drivers are trained to prioritize your well-being on the road. You can rest assured knowing that you're in capable hands when you choose Silver Mountain Express.
Scenic Routes: Eagle, Colorado, is surrounded by breathtaking landscapes. Our drivers are well-versed in the area, and they can take you on scenic routes that add an extra touch of beauty to your journey.
Booking Your Eagle Private Transportation:
Booking with Silver Mountain Express is seamless and straightforward. Our user-friendly online platform allows you to reserve your transportation with just a few clicks. Simply provide your travel details, and we'll take care of the rest.
Experience the Difference:
With Silver Mountain Express, your travel experience transforms from ordinary to extraordinary. Imagine sitting back in a comfortable seat, enjoying the scenic views, and leaving the stress of driving behind. Whether you're heading to Eagle for business, leisure, or any other purpose, our private transportation service adds a touch of luxury and convenience to your journey.
Rates from Eagle to Denver International Airport
EAGLE TRANSPORTATION RATES
Conclusion:
Traveling from Eagle, Colorado to Denver Airport has never been easier or more comfortable than with Silver Mountain Express. With their reliable and punctual service, luxurious vehicles, door-to-door convenience, flexible scheduling, and a strong emphasis on safety, they are the ideal choice for private transportation. Say goodbye to the stress of navigating public transportation or coordinating shuttle services and opt for a hassle-free and enjoyable journey with Silver Mountain Express. Book your private transportation today and experience the difference firsthand.
---