Step into a world where melodies weave tales of heartache, joy, and the essence of life itself. At the Grizzly Rose Saloon and Country Music Hall, every night is a journey into the soulful embrace of country music and a celebration of camaraderie.
As you approach the rustic façade of Grizzly Rose, a sense of anticipation stirs within you. The wooden beams and vintage decor exude an inviting charm, setting the stage for a night of enchantment. Once you step through the doors, the ambiance envelops you like a warm embrace, inviting you to be a part of something truly special.
BOOK YOUR RIDE TO GRIZZLY ROSE SALOON
The heart of the Grizzly Rose beats on its stage – a stage that has witnessed countless performances that touch the heart and stir the soul. As the lights dim, the spotlight reveals musicians pouring their emotions into every note, every lyric. Their voices carry stories of love, loss, and the raw beauty of life's journey. The crowd becomes a chorus, singing along to melodies that have become anthems of their own experiences.
But Grizzly Rose is more than just a music hall; it's a realm where strangers become friends, united by a shared love for the genre. Laughter and conversations weave through the air, as patrons from all walks of life gather to immerse themselves in the rhythm of the night. Whether you're a seasoned country music enthusiast or a curious newcomer, the atmosphere embraces you with open arms, making you feel like you're a part of a close-knit community.
As the music ebbs and flows, the dance floor beckons. Line dancing takes center stage, and soon, people of all ages and skill levels are twirling, stomping, and laughing in unison. It's a joyful celebration of movement, where inhibitions melt away, and the spirit of the music guides every step. Even if you've never danced a day in your life, the welcoming energy encourages you to join in the fun.
As the night draws to a close, you're left with more than just memories – you're left with a connection to the music, the atmosphere, and the people who shared the experience with you. The Grizzly Rose isn't just a venue; it's a haven where melodies linger in the heart long after the last chord has been struck. It's a place where you create stories, forge friendships, and find solace in the timeless embrace of country music. A night at Grizzly Rose Saloon and Country Music Hall isn't just an event; it's an unforgettable journey where music and memories converge, leaving you with a longing to return for more.
Located: 5450 N. Valley Hwy. Denver, CO 80216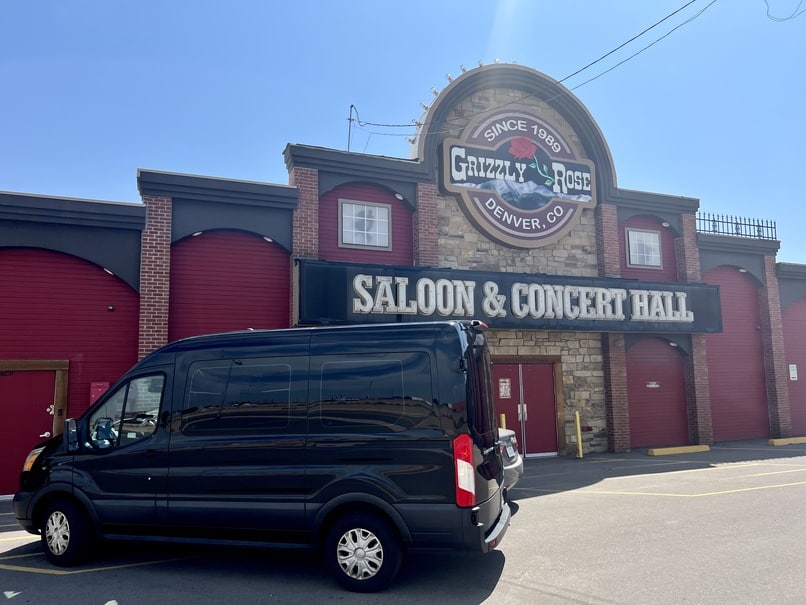 Get your Luxury Transportation with Silver Mountain Express to Grizzly Rose Country Music Saloon
Introduction:
When the allure of a night out in Denver's vibrant music scene calls, there's no better way to make it memorable than by embarking on a journey of seamless luxury with Silver Mountain Express. As the stage is set at the renowned Grizzly Rose Country Music Saloon, let's explore how Silver Mountain Express transforms your travel into an exquisite experience, ensuring that your passage to the event is as unforgettable as the night itself.
Embracing Elegance: Unveiling Silver Mountain Express:
It all starts with the arrival of a Silver Mountain Express vehicle – a sophisticated masterpiece that signifies the beginning of an extraordinary evening. But this isn't just transportation; it's an opulent journey that transcends the ordinary. Stepping into their meticulously crafted vehicle, you're greeted by an ambiance that oozes sophistication and luxury.
A Symphony of Comfort: Setting the Stage for Luxury:
As you embark on your journey, it becomes apparent that Silver Mountain Express doesn't merely offer transportation; it orchestrates a symphony of comfort and style. Sink into plush leather seats, designed meticulously to cradle you in opulence. The ambiance is tailored to your liking, with customizable lighting and climate settings ensuring you're enveloped in an atmosphere of your choosing.
Crafting Unforgettable Experiences: Pleasing the Senses:
But Silver Mountain Express doesn't stop at physical comfort. Their service elevates your senses. The professional chauffeur, attired elegantly, attends to your every need. Craving a refreshment? Feeling peckish? Their well-curated amenities have you covered. Want to stay connected or unwind with music? The onboard facilities cater to your preferences, turning your journey into a delightful part of the entire experience.
A Graceful Arrival: Making an Entrance:
As the Grizzly Rose Country Music Saloon draws near, the anticipation of the venue's energy is seamlessly merged with the luxury you've experienced throughout your Silver Mountain Express journey. The arrival is smooth, eliminating the usual concerns of parking and traffic. Stepping out at the venue's entrance, you're not just a guest – you're a VIP, poised for a night to remember.
Conclusion: Elevating Every Instant:
From your first encounter with Silver Mountain Express to the moment you arrive at the Grizzly Rose Country Music Saloon, every step of your journey is imbued with luxury and elegance. With their unwavering commitment to impeccable service, personalized attention, and meticulous detail, Silver Mountain Express transforms your travel into a cherished memory. If you're seeking to infuse your night out with opulence and refinement, entrust your journey to Silver Mountain Express. They seamlessly blend sophistication, convenience, and comfort, ensuring that your passage to the Grizzly Rose Country Music Saloon becomes an integral part of an unforgettable evening. Get ready for a night where the journey itself is as remarkable as the destination.