In Colorado, there are lots of great places to visit, but there is one place in particular that has everything you could ever wish for: lakes to cool off, sail, and fish in; a spectacular view of the Rocky Mountains, and easy access to Rocky Mountain National Park; hiking trails; shopping centers; museums… the list goes on.
What vacation spot could have all these things? Grand Lake, of course! Grand Lake, CO, also known as the western gateway to the Rocky Mountain National Park, features not two but three lakes. With all that lakefront property, there's plenty to do and see. In this article, we created a list of 5 reasons you'll love spending your vacation here in summer 2021.
Reason #1: The Lakes
Alright, we may have cheated a little: we included three lakes under one reason. There are, in fact, three lakes near Grand Lake city proper: Grand Lake (naturally), Lake Granby, and Shadow Mountain Lake. They're each accessible for swimming, boating, fishing, jet-skiing, and paddleboarding. Lake Granby is known for its proliferate stock of salmon and trout, but because of its large size (7,000 acres!), it's also a great place to take the boat.
Grand Lake (meaning the body of water) is closer to the Boardwalk, where all the shops and restaurants are, while Shadow Mountain Lake is a little farther away from all the hustle and bustle. The latter two lakes are connected so that one can be reached from the other by boat. You can set sail or just idle by the lakeshore, enjoying the incomparable view of the mountains above and surrounding these majestic bodies of water.
Reason #2: The Boardwalk
The Boardwalk is the place to be if you want to shop and dine in Grand Lake. Every one of the more than 60 businesses along the lakeshore is owned by residents. So, when you shop at these stores, you're supporting small businesses. And there are a lot of small businesses here. Antique stores, clothing stores, jewelry stores, restaurants, and ice cream shops, and coffee shops – pretty much anything you could wish for, and then some is waiting on the Boardwalk for you to discover.
Reason #3: The Local Attractions
Bored and tired of hanging out by the lakes and the mountains? Not a problem. There's still plenty to do in Grand Lake, aside from spending all your money at the Boardwalk. For example, you can visit the Kauffman House Museum, a log hotel built in the 1800s. Or, if you feel like a little entertainment is in order, you can catch a Broadway musical show at the Rocky Mountain Repertory Theatre.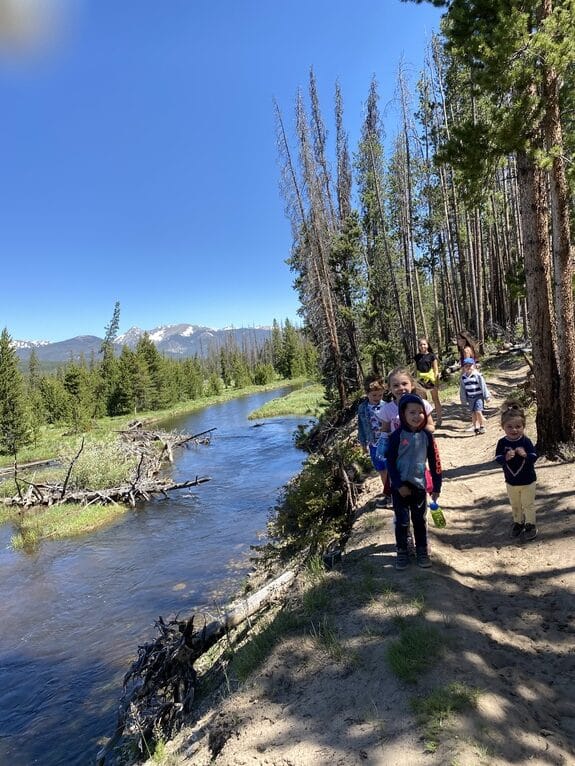 Reason #4: Rocky Mountain National Park
Who could forget the crown jewel of Grand Lake – nay, of all Colorado? As we mentioned above, Grand Lake is considered the western gateway to the Rocky Mountain National Park. You can see these awesome edifices from Grand Lake looming above it and reflecting on the water's surface. It's a short drive to get into the park itself through the west entrance, and then you have access to all kinds of hiking trails and scenic campsites from which you enjoy the mountainous atmosphere.
Reason #5: The Weather
Whenever someone takes a summer vacation, the conventional wisdom is that you should go somewhere hot so you can enjoy swimming and other traditional summer activities, right? In Grand Lake during the summer, temperatures average out in the 70s. In other words, it's not too hot and not too cold. You can still enjoy the lakes without melting like a popsicle. This isn't the Grand Canyon, after all.
How Do I Get To Grand Lake?
It's easy to get to Grand Lake, CO, from a nearby city or major city airports: book a ride with Silver Mountain Express. We offer shuttle services in luxury vehicles. Our drivers are professional and will get you safely to your destination. Ready to leave the paradise that is Grand Lake? We'll pick you up and take you back to the airport.
Driving is stressful, especially if you're traveling through an unfamiliar state. Let us take that stress out of the picture, so you are free to only think about the fun you're going to have at the lakes, mountains, and Boardwalk of Grand Lake, CO.
Book your Private Shuttle today!