In this article, we'll tell you about 10 of the best ski resorts in the US. We'll show you what's unique about each one in the hopes you'll find the best one for your next vacation.
1. Whitefish, Montana
Whitefish Mountain Resort is located in Montana and features some of the most beautiful views of any ski resort in the US. Here, you'll find 3000 acres of mountain land to ski on, hike, and explore. You can also go ziplining, horseback riding, river rafting, and fishing. And those are just the outdoor activities. If you go into the resort town of Whitefish, you'll find shops and dining, as well as lodging, to keep you occupied for hours. This popular resort is sure to make your trip a special, fun-filled time.
2. Stowe, Vermont
Stowe is a ski resort situated right next to Mount Mansfield, the highest peak in Vermont. Vermont is in New England, which is some of the most picturesque countrysides in the US. It's an ideal place to go to visit a ski resort. And Stowe doesn't disappoint. It features 116 ski trails, opportunities for ski lessons, gondola rides on which you can get a bird's eye view of Mount Mansfield, an ice skating rink, and more. In the village, you'll find plenty of dining options, shops, and a spa where you can relax after a long day of outdoor activities. Relax and drink in the views at Stowe ski resort in
Vermont.
3. Vail, Colorado
Vail is a large, gorgeous ski resort in Colorado that lets you escape from the rat race for a little while. In the interconnected Alpine-style villages, you'll find shops, nightlife entertainment, gourmet food, and relaxing spa treatments. On the mountain, 195 different ski trails will whet your appetite for powder. The fun never stops, either in the villages or on the slopes. Vail Ski Resort is the ultimate choice if you're looking for a charming getaway experience like no other.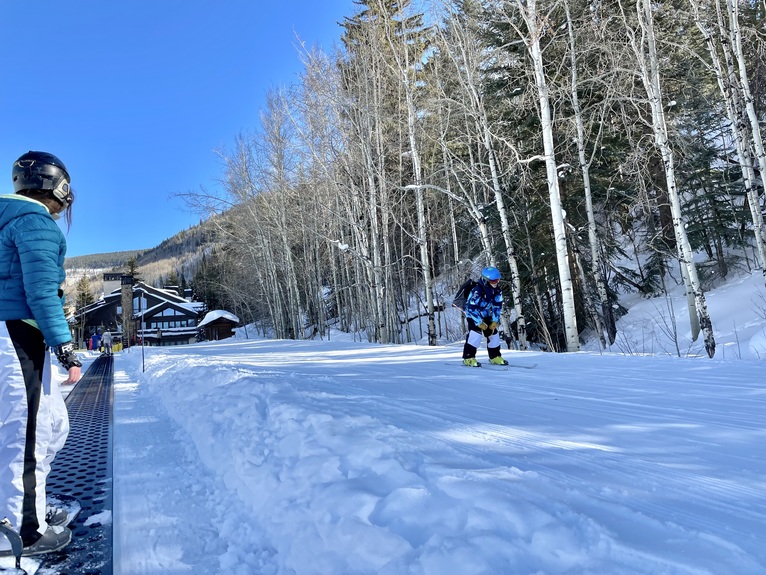 4. Park City Mountain, Utah
Park City Mountain is located in Utah and is the largest ski resort in the US. The town is charmingly historic, having become a city way back in 1884, and revolves around ski culture (you can even get to the town on skis if you're brave enough!). In 2002, the mountain became host to several Winter Olympics events. There's something for everyone here: skiing, snowboarding, snowmobiling, and sleigh riding. You can stay in the premium lodgings located in the town, or you may want to try staying in a yurt. If you get tired of hitting the slopes, you can shop and dine in Park City or visit the spa. High-end convenience, plenty of entertainment, and a unique cultural flavor: Park City Mountain has it all.
5. Snowbird, Utah
Snowbird Ski Resort in Utah is committed to giving you the best skiing experience possible. The mountain spans 2500 acres and has plenty of room for all levels of skiers, from beginner to expert. You can try helicopter skiing, snowboarding, and snowshoeing. You can also take some skiing or snowboarding lessons if you need some practice before trying the big slopes. In the town, you'll find high-end lodgings and dining, as well as a rooftop spa. Snowbird is so dedicated to helping you have a great, personalized time; they even have their own app, which you can download to keep up with the latest "Bird" news, weather conditions, your ski stats, and where your friends and family are on the mountain. Whether you're by yourself or with a group of people, Snowbird is a fantastic vacation option.
6. Aspen Snowmass, Colorado
Aspen Snowmass in Colorado is spread across four mountains: Aspen Mountain, Snowmass, Aspen Highlands, and Buttermilk. Each mountain comes with unique features; the activities you're looking for, as well as your skill level, will determine which one you frequent. For example, Aspen Mountain has seen its share of Winter Olympic ski runs, but it's also a popular site for novice skiers. You'll spend hours exploring the vast slopes of Snowmass and still not see all of it. Locals love Aspen Highlands, as it's more out of the way than the other three mountains and therefore less popular with tourists. Finally, freestyle snowboarders and skiers, as well as families, enjoy playing on Buttermilk's powdery slopes. In Aspen proper, all ages will enjoy premium lodging, dining, and entertainment. You won't be bored when you stay at Aspen Snowmass.
7. Big Sky Resort, Montana
Big Sky Resort in Montana occupies the same countryside as Yellowstone National Park. Everything about it is big and beautiful: the mountain, the town, and yes, the clear blue sky. The mountain slopes feature 5850 acres that you can ski on. At the top of Lone Peak, you'll find incomparable, jaw-dropping views that take in three states and two national parks. Skiing, snowshoeing, ziplining, snowboarding, mountain biking, and even golf activities are open to you depending on whether you go in the winter or summer. Dining, lodging, and shopping are waiting for you to explore in the resort town. You'll find every convenience of a high-quality ski resort at Big Sky.
8. Killington, Vermont
At Killington in Vermont, you'll find everything you could ever wish for at a ski resort. You can ski, snowboard, go tubing, and sleigh riding. You can chill out at the bar and listen to killer music, get your aching muscles massaged at the spa, and sample fine dining at one of the resort's many dining options. All the while, you're surrounded by stunning New England mountain views. Killington, if you'll pardon the expression, is a killer choice for your next ski trip.
9. Breckenridge, Colorado
Breckenridge in Colorado is all about living life to the fullest with the biggest, most positive energy. Here, you'll find plenty of outlets to express yourself, try new things, and tap into your inner courage. With 5 mountain peaks and 187 ski trails on various mountain terrains to choose from, you're sure to find a slope that suits your sense of adventure. The resort town, with its dining, shops, and spa, is the ideal place to catch your breath before going back up into the mountains for more. The fun and energy are non-stop at Breckenridge Ski Resort.
10. Jackson Hole, Wyoming
Jackson Hole Mountain Resort in Wyoming was first opened in the 1960s, and since then, it's remained a popular destination for professional skiers and vacationers alike. There's no end to what you can do here: you can ski, snowboard, go snowmobiling, go snowshoeing, bike, paraglide, explore the nearby national parks, and much, much
more. You can enjoy shops and varied dining, a bustling nightlife with live music, drinks, and plays in the resort, and a luxurious spa. The folks at Jackson Hole know how to run a ski resort and run it well, and they've got decades of experience under their belts to prove it.