Our Guide to Getting a Private Car Service from Vail to Denver Airport
Introduction to Vail to Denver Airport Car Service
Denver is home to Denver International Airport, which flies in tourists from all over the world. It's a popular midway point when traveling to the ski town of Vail. This is because Denver has many transport links to Vail, making it easy to get to your accommodation quickly.
Vail is one of the top skiing destinations in the world, as it has over 5,000 acres of icy terrain for all levels of experience. The ski town is divided into three ski sections: Front Side, Back Bowls, and Blue Sky Basin. There are slopes for all levels of skiers. You can access these sections via the 31 lifts scattered throughout the region.
This article will explain the best way to get from the town of Vail to Denver International Airport. We will also list some of our favorite Vail attractions so you can make the most of your trip!
Denver to Vail Car Hire Service
One safe, easy way to get to Vail is by hiring a private car service. Silver Mountain Express is a reliable Private Limo and luxury SUV hire service that takes you from Denver to any destination in Colorado. This includes popular ski resorts such as Aspen, Vail, Beaver Creek, Copper, and Winter Park.
Their stylish vehicles will transport you in style and ensure you feel as comfortable as possible. You have the option of hiring a large SUV or a Luxury Van.
No matter what time your plane is due to land, you will be able to pre-book your private SUV or Limo, as the service operates 24 hours a day, 7 days a week. This ensures no delays are caused by waiting around for taxis or other public transport.
Once your plane has landed in Denver, you can quickly make your way to the nearby Silver Mountain Express HQ, which is connected to Denver Airport. You can be sure that safety is their top priority, as all private chauffeurs are thoroughly trained for Vail driving conditions.
Article Related Questions
How many Passengers Can I Book for a Private Car Hire?
With Silver Mountain Express, you can book up to 7 passengers for a Luxury Van, 6 passengers for a large SUV hire, and a maximum of 2 passengers for a sedan.
How Long is the Drive from Vail to Denver Airport?
The 97-mile drive from Denver to the city of Vail takes approximately 2 hours to complete. However, journey times can vary due to traffic and weather conditions. The car journey takes you through the snowy region of Colorado, so if the roads are particularly icy, your trip may take longer than expected.
What is the Safest Time of Year to Travel from Vail to Denver Airport?
The best time to travel from Denver to Vail is debatable. During the summer months, there is more tourism traffic. However, the roads aren't slippery. During the wintertime, there are fewer cars on the road, but this is due to adverse driving conditions.
If you're driving yourself, then making the trip during the summer would be safest. If you are using a private chauffeur service, then you can enjoy a relaxing winter drive.
What are the Benefits of Using a Private Car Service from Vail to Denver Airport?
Here are some of the benefits of using a car service to get from Vail to Denver International Airport, Colorado:
No Sharing – once you leave the loud, busy airport, you can get in your private car and enjoy some much-needed peace and quiet. You won't have to listen to any unwanted noise, and you won't be crammed into a small space with lots of strangers.
No Wait Times – once you get off your plane, you can go straight to your car and don't have to wait for any shared shuttle, bus, or train departures. This helps you get to Vail as quickly as possible and ensures you don't fall victim to any public transport delays.
Luxurious Seating – Silver Mountain Express provides classy, high-quality cars with lots of legroom. The seats provide great back support and are so soft and comfortable that you could sleep for the entire car journey!
No Driving – instead of driving for hours after your flight, you can sit back in your private car and relax. You don't need to worry about driving on unfamiliar, dangerous roads; you can simply rest.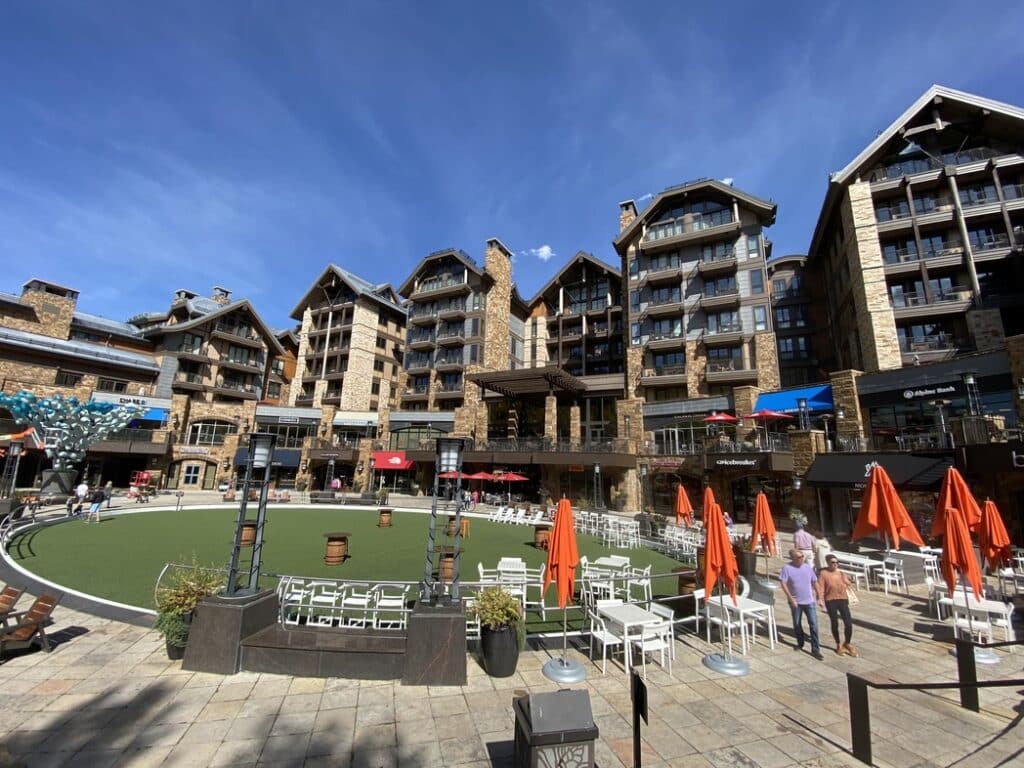 Top 10 Things to See and Do in Vail, Colorado
The reason Vail is such a popular holiday destination is that there's something for everyone to enjoy. Aside from the skiing options, you can find an abundance of nature, history, and outdoor activities to keep you occupied. Vail has a wide variety of things to do, so we've narrowed down our top picks:
#1 – Vail Village
For a pleasant afternoon of shopping, you can visit Vail Village. Here you'll find classy shops, restaurants, hotels, and entertainment all year round. You can enjoy views of stunning mountains and gorgeous buildings inspired by European mountain towns. The village streets are mostly just for pedestrians, which means you can wander around without worrying about cars.
#2 – Ford Park Complex and The Betty Ford Alpine Gardens
Whilst you're in Vail Village, you can also visit Ford Park. This is named after President Gerald Ford, the 38th President of America. He and his wife, Betty, enjoyed traveling to Vail for their holidays. Ford Park includes a tennis center, amphitheater, athletic field, picnic areas, and a sculpture park. You will also find the gorgeous Betty Ford Alpine Gardens.
This botanical garden is 8,000 feet above sea level, making it one of the highest botanical gardens in America. The relaxing gardens are a peaceful venture as they take you far away from the busier parts of Vail, allowing you to have a calming walk through nature.
#3 – Hike Through the Mountain Trails
Vail is not just a ski resort; it is also renowned for gorgeous, scenic hikes that look straight out of a painting. Journeying through the Mountain Trails is perfect during the warmer months, and the trails take you through mountains, forests, and bodies of water. Whether you want a long, short, hilly, or forest walk, the Mountain Trails will have something for you.
#4 – Gondola Cable Cars
For an unbeatable view of Vail, you can ride in the Gondola cable cars. The cable car starts at the bottom of Vail Mountain and goes up to 10,000 feet to the top of the mountain. As you ascend, you'll see picture-perfect 360-degree views of Vail, so it's a great way to see the area without having to do a long hike. Once you reach the top of Vail Mountain, you'll find lots of hikes and charming restaurants.
#5 – Activities at Vail Epic Discovery
If you're looking for physical thrills, you should visit Vail Epic Discovery. This activity center offers adventure courses, forest ziplining, a climbing wall, a roller coaster, and more. Vail Epic Discovery is family-friendly, so there are activity options for both kids and adults of all skill levels. It's the perfect place to spend the day as you explore nature and bond with your holiday group.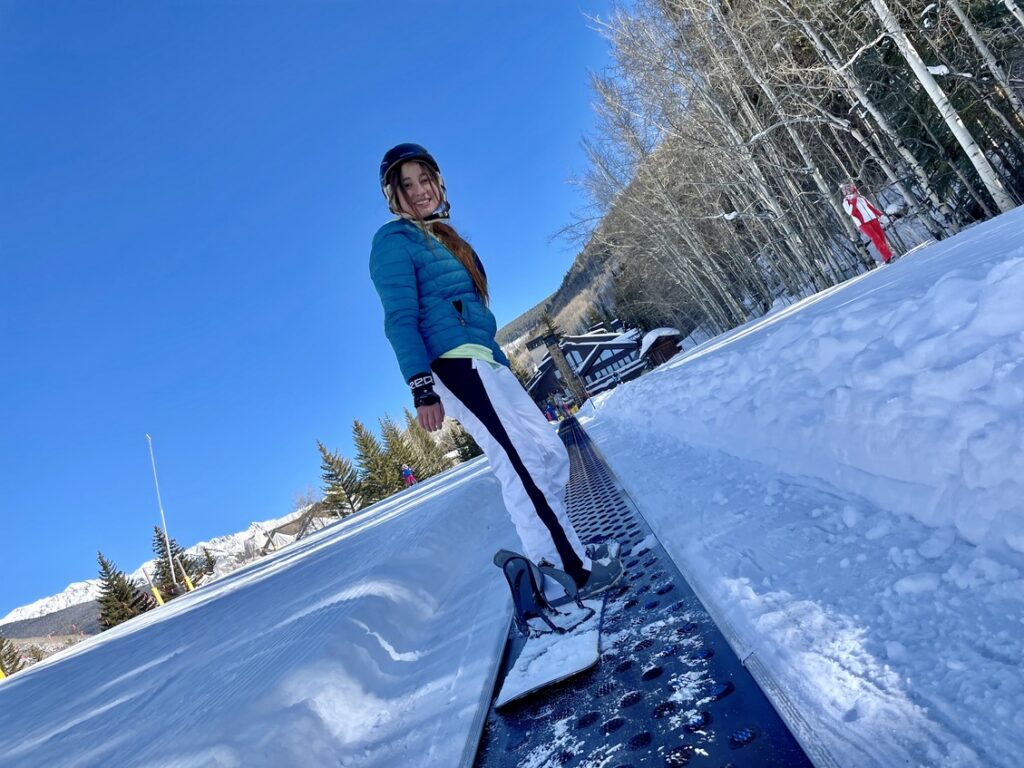 #6 – The Colorado Snowsports Museum and Hall of Fame
Colorado is home to many famous snowsports personalities that you can learn about at this Museum. You will be taken on a journey throughout the history of Vail and how it became one of the top ski resorts in the world. The Hall of Fame features Colorado's most famous sports celebrities and is a popular tourist stop.
#7 – Enjoy the Ice Bumper Cars
Dobson Ice Arena is home to the Ice Bumper Cars and offers fun for all the family. You can blow off some steam and be surrounded by the beautiful snowy scenery. The bumper rides are $10 per person, which gets you a 15-minute bumper car ride. It's worth noting that you must preregister online before visiting, as spaces fill very quickly.
#8 – Wonder at the Ice Castle
The Ice Castle is an award-winning tourist spot in Dillon, which is half an hour's drive from Vail. Here you will find thousands of icicles that have been carved by ice artists from across the globe. This breathtaking Ice Castle and the surrounding snow-topped mountains make this the perfect spot to take holiday photos. The experience also features tunnels, slides, fountains, and LED-lit ice sculptures.
It's worth reminding you that the Ice Castle are only available to see in the wintertime, so keep this in mind before booking your trip.
#9 – Visit the Ghost Town of Gilman
Colorado is not just known for its snow sports. Strangely it is also home to thousands of abandoned ghost towns. One such town is Gilman, which is a 30-minute drive from the town of Vail, at the top of a 600-foot cliff on Battle Mountain. This mining town was thriving in the past but was shut off to residents in the 1980s due to safety concerns.
Despite being abandoned, Gilman is a beautiful place to drive through, as you'll see picturesque yellow trees and stunning views of the mountains, forest, and wildlife.
#10 – Bavarian-Inspired Fine Dining
Vail takes architectural inspiration from the European towns of Bavaria and aims to recreate the fine dining experience of Switzerland, Germany, and Austria. This means that eating in Vail truly takes your taste palette across the world. With that being said, here are some of the best eateries you can experience in Vail:
Alpenrose Vail – this restaurant felt just like a cozy German home with its antique chairs and reclaimed wood decor. The menu includes a variety of delicious Swiss, Austrian, and German dishes.
The Swiss Chalet – not only does the Swiss Chalet feature mouth-watering Swiss food, but the restaurant won Wine Spectator's "Best Award of Excellence," offering more than 1,000 wines to choose from.
Almresi – this Bavarian eatery features rustic, cabin-style decor that feels cozy and luxurious. You can choose from German, Austrian, and Swiss delicacies, as well as cocktails and Bavarian cold brews.

Vail to Denver International Airport Car Service – Final Thoughts
We hope we've helped you discover the easiest and most luxurious way to travel from Vail to Denver Airport with Silver Mountain Express. If you want to visit a place full of ski slopes, museums, mountains, and ghost towns, then Vail is the place to be. Whatever you have planned, you can be sure to have a fun-filled trip!
Thank you for taking the time to read our article today. Please feel free to check out our other travel-related content!