Red Rocks Trading Post Wedding
Whether you are a part of the couple getting married or a guest flying into town for the wedding, there is a never-ending number of items to check off your to-do list. If you are the person planning the wedding, that list is astronomical and some professionals take care of the cake, flowers, and food! However, transportation is something on that list that we can easily take care of. The method you choose to arrive at the venue should not stress you out more than the wedding itself. And with reliable, luxury transportation services, it doesn't have to. If you are a wedding guest or family member of the happy couple and you need reliable transportation while you are in town, you are gonna need an easy, safe, and special way to make your way over to such a monumental event.
Colorado offers so many beautiful locations to tie the knot, and our luxury transportation can top off a special day. If you are looking for a wedding venue, Colorado has jaw-dropping venues all over the state, but one unique location that we offer transportation to and from is Red Rocks. If you are from Colorado, have ever visited, or have ever thought about visiting the state, you have likely heard of Red Rocks Amphitheatre. This concert venue has hosted some of the biggest names in music and gives an experience like no other. The venue is completely outdoors, surrounded by some of the most breathtaking views that the state has to offer. The music and environment are something everyone should get to experience at least once.
But did you know that the venue has much more going on than just music? They offer fun activities throughout the year outside of concerts, but the Red Rocks Trading Post has something special for those of you getting ready to tie the knot.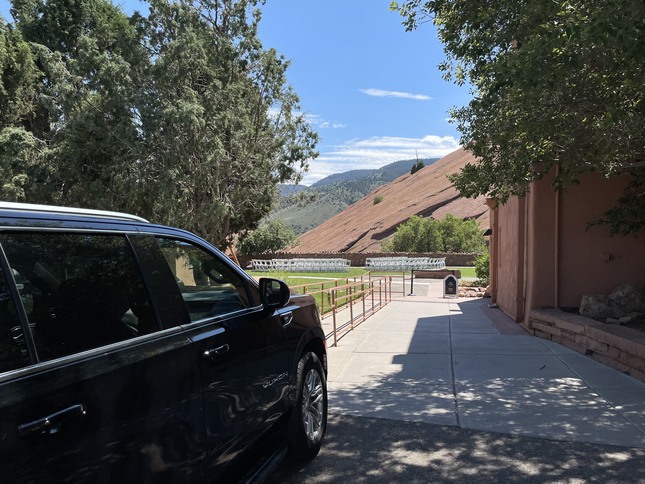 Red Rocks Trading Post Backyard
The Red Rocks Trading Post normally plays its part as a fun gift shop offering souvenirs and apparel to those visiting the outside concert venue and trails. The post was constructed in 1931 and offers amazing views of the valleys and rock formations. Just around the trading post is a 1.4-mile trail and the building also acts as a welcome center and music hall of fame exhibit.
For weddings,  the Trading Post has an incredible space behind the building, making the Red Rocks Trading Post Backyard the perfect outdoor venue. It is located directly behind the welcome center and below the amphitheater. Guests have the option of having their ceremony outside in the backyard of the Trading Post if weather permits. If they need another option because of inclement weather, smaller ceremonies can be held under the porch of the building. This still offers great views of the rock formations and shelter from rain and unpredictable weather. Whether you are wanting a small, intimate ceremony or a large event with hundreds of people The Trading Post Backyard can give you the nature-centered ceremony you are looking for.
The venue also offers up 30,000 square feet of visitor center space and if you need a location indoors , a portion of that can be utilized in the Rock Room. This room brings a little of the outdoors, indoors. The entire space was built around one of those spectacularly beautiful red rocks, so guests can feel as though they are sitting amongst the red valleys even if they have to spend the wedding inside because of weather. And even if weather is ideal, the Rock Room is an amazing and unique space to host a wedding reception and can accommodate up to 152 seated guests. The room offers sliding glass doors that can open up to the lower terrace, giving guests an amazing view of the rocks from indoors. In addition to the Rock Room, there are two other indoor options for your event needs. The Southwest Heart of the Rock Theatre can host up to 200 people and the cozy Ship Rock Grille can hold an intimate group from 56 to 130 guests.
The Trading Post Backyard and Rock Room are affordable Red Rocks wedding options for nuptials and receptions. They offer nearly everything one could need for the perfect day. Amenities offered include:
Ceremony Area
Dressing Room
Indoor Event Space
Outdoor Event Space
Reception Area
Wireless Internet
Handicap Access
Red Rocks Weddings Transportation
The Denver area has so many amazing options for the most important event of your life. Red Rocks weddings are beautiful and hosted at a location that guests will never forget. You may even find that many of your guests play copycat and decide to host their own events there as well. It's that good. When the day comes around, you and your guests are going to need reliable transportation. If you are the individual getting married, you may be spending the morning closer to Denver and need a transportation out to the venue later that afternoon. This is one of the most important events of one's life, so reliability can not be compromised. Silver Mountain Express offers high quality, reliable, and luxury transportation services to and from the Red Rocks wedding venue.
You have a variety of luxury vehicles to choose from – whether you need transportation for 3 people or 7 people. Groups up to 5 and 6 can be accommodated in a large luxury SUV and larger groups up to 7 have the option of our luxury van. Your transportation to and from the wedding venue can be reliably taken care of. All you have to do on the day of is show up at the predetermined place and time and we will take you where you need to be. If you need to arrange transportation for guests from the airport or Denver hotels, we can also assist with that.
In addition to reliability and promptness, comfort and style are paramount on a day as important as this, and Silver Mountain Express can assure that you have both when you book with our experienced drivers and luxurious vehicles.