Red Rock Amphitheatre
Enjoying live music with friends and those you love is an experience that everyone should be intentional about regularly having. There is something about being gathered with some people you know and many others that you do not, listening to music that you all love. This common denominator, music that you all enjoy, is one surefire way to feel more connected to the world and those around you.
That connection to the world can even be amplified by the location or atmosphere of the concert you are attending. Architects and designers worldwide have done their best to create concert venues and amphitheaters that add to the live music experience but are something to experience on their own. These types of concert venues and amphitheaters make something that would have already been an uplifting, enjoyable experience into something otherworldly entirely.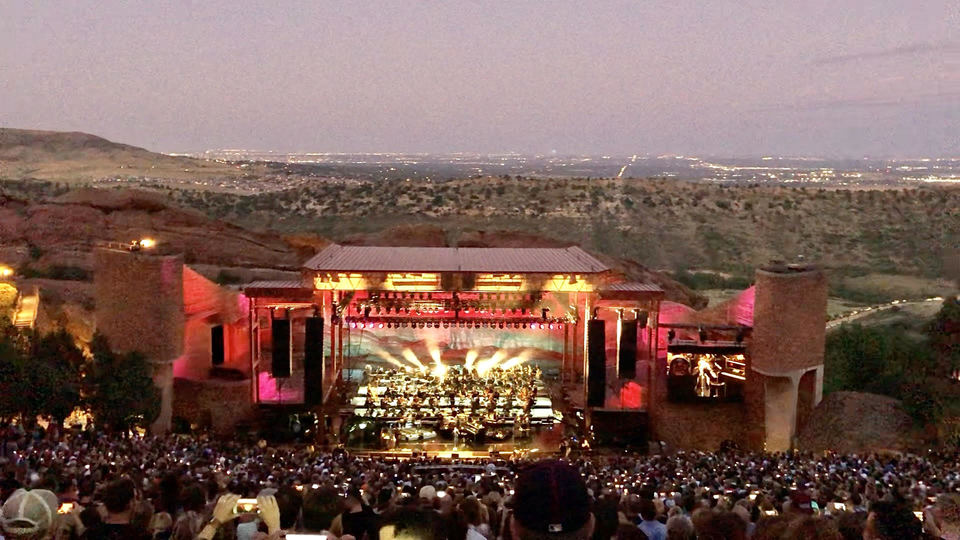 A Place To Hear Live Music Amongst the Red Rocks
One of the prize amphitheaters and concert venues in the United States was created to amplify the live concert experience, but instead of constructing something out of artificial materials, it was decided to construct the amphitheater right into the middle of the natural, organic environment that was decided for the location. The Red Rocks Amphitheater is a sight to see whether you are attending a Red Rocks concert in the evening or not.
Red Rocks 2022 Concert Schedule
Friday, Jan. 28 – Winter on the Rocks: Diplo, Sofi Tukker
Friday, April 1 – Porter Robinson, with Machinedrum, Wavedash, Qrion, Air to Earth
Friday, April 8 – Boogie T with SoDown, Minnesota, Boogie Trio, KHIVA, and BAWLDY
Saturday, April 9 – Magic on the Rocks: Scotty Wiese with guests
Thursday, April 14 – Gorgon City
Friday, April 15 – Nghtmre
Saturday, April 16 – Kevin Gates & Gucci Mane
Sunday, April 17 – John Mulaney
Tuesday, April 19 – Ice Cube, Cypress Hill, E-40, Too Short
Wednesday, April 20 – 420 on the Rocks: Pepper, Method Man, Redman, Prof, Collie Buddz, DEMN, The Underachievers, and Keznamdi
Thursday, April 21 – Subtronics with Rusko, YHETI, G-SPACE B2B TIEDYE KY, Zingara B2B Austeria
Friday, April 22 – Galantis & 3LAU
Saturday, April 23 – Lotus, Cut Copy, Strfkr
Sunday, April 24 – Dom Dolla
Thursday, April 28 – Trevor Hall & Citizen Cope
Friday, April 29 – Trevor Hall & Citizen Cope
Saturday, April 30 – Sublime with Rome
Tuesday, May 3 – Jason Isbell & the 400 Unit, Waxahatchee
Wednesday, May 4 – Jason Isbell & the 400 Unit, Waxahatchee
Thursday, May 5 – Hippie Sabotage
Friday, May 6 – Brantley Gilbert
Saturday, May 7 – Brantley Gilbert
Monday, May 9 – Russ
Thursday, May 12 – Billy Strings
Friday, May 13 – Billy Strings
Saturday, May 14 – Turnpike Troubadours, Shovels & Rope, Reckless Kelly
Monday, May 16 – Kaleo
Saturday, May 21 – Global Dub Festival: Peekaboo, Dirt Monkey, ATLiens,
Buku B2B Esseks, Space Wizard & Zia
Wednesday, May 25 – Rex Orange County
Sunday, May 29 – Ziggy Marley, Stephen Marley, Ben Harper & the Criminals
Wednesday, June 1 – Lord Huron
Thursday, June 2 – Lord Huron
Friday, June 3 – Joe Russo's Almost Dead
Saturday, June 4 – Michael Franti & Spearhead
Wednesday, June 8 – Jai Wolf & San Holo with Manila Killa & Tsu Nami
Friday, June 10 – The Revivalists
Sunday, June 12 – Tash Sultana
Saturday, June 11 – Big Head Todd and the Monsters
Tuesday, June 14 – Glass Animals
Wednesday, June 15 – Glass Animals
Thursday, June 16 – Chicago, Brian Wilson, Al Jardine, Blondie Chaplin
Friday, June 17 – Umphrey's McGee, Iespecial
Saturday, June 18 – Umphrey's McGree, Andy Frasco & The U.N.
Monday, June 20 – Bleachers, Wolf Alice
Tuesday, June 21 – Barenaked Ladies
Wednesday, June 22 – Andrew Bird, Iron & Wine, Neko Case
Thursday, June 30 – Kraftwerk in 3-D
Saturday, July 2 – Zeds Dead
Sunday, July 3 – Zeds Dead
Wednesday, July 6 – Halsey, The Marías, Abby Roberts
Friday, July 8 – The Avett Brothers with Darrell Scott
Saturday, July 9 – The Avett Brothers with TBA
Sunday, July 10 – The Avett Brothers with Regina Spektor
Monday, July 11 – Rainbow Kitten Surprise, Briston Maroney
Tuesday, July 12 – Rainbow Kitten Surprise, Briston Maroney
Wednesday, July 13 – The Black Keys, Band of Horses, Ceramic Animal
Thursday, July 14 – Trampled by Turtles, Ruston Kelly
Thursday, July 21 – David Gray
Sunday, July 24 – Josh Groban with Colorado Symphony
Wednesday, July 27 – Goo Goo Dolls, Blue October
Tuesday, June 28 – Trombone Shorty's Voodoo Threauxdown
Friday, July 29 – Tedeschi Trucks Band, Los Lobos, Gabe Dixon
Saturday, July 30 – Tedeschi Trucks Band, Los Lobos, Gabe Dixon
Friday, Aug. 12 – Thomas Rhett, Parker McCollum, Conner Smith
Wednesday, Aug. 17 – Mt. Joy
Monday, Aug. 22 – Steve Miller Band
Thursday, Aug. 25 – 1964 The Tribute
Friday, Sept. 9 – Brandi Carlile, Lucius, Allison Russell
Saturday, Sept. 10 – Brandi Carlile, Indigo Girls, Allison Russell
Thursday, Sept. 15 – The Head and the Heart
Monday, Oct. 10 – King Gizzard and the Lizard Wizard
Tuesday, Oct. 11 – King Gizzard and the Lizard Wizard
Saturday, Oct. 22 – Midland
The venue, planting straight into the middle of the Red Rocks in Colorado, has been a highly sought out visitor's and local's destination for over 75 years. Whether you are attending a concert or not, this amphitheater is something you do not want to miss. The stage and performance area sits in front of a breathtaking view of an area once regularly called "Garden of the Angels." Every seat in the 9,000 seat amphitheater has an unobstructed view of the landscape surrounding it. This type of atmosphere was made to be experienced with some of your favorite live music.
The Red Rocks Amphitheater was open to the public in 1941 after construction on the venue began in 1936. Since its installation has seen massive musical guests such as The Beatles, smaller indie bands, and everything in between. The venue is located less than thirty minutes outside of Denver, so if you visit that city or any other part of the state, you should see what events or concerts are happening at the amphitheater. It is well worth the drive.
Visiting
On non-event days, the venue opens one hour before sunrise. This allows visitors, whether they are planning on attending a concert at the venue or not, the chance to sit and view the sunrise in one of the over 9,000 seats. On these non-event days, the amphitheater closes one hour after sunset, so you can witness the sun going down inside the venue as well. Admission to the amphitheater is free during the days where there are no events taking place.
Outside of the amphitheater, there are other amenities on site. The Colorado Music Hall of Fame also offers free admissions and gives you a look into the history of the musical guests that have visited and performed on the stage over the last 80 years.
Hiking
If hiking is something you are looking to enjoy multiple times while visiting Colorado, the Red Rocks Trail and Parks are also open to the public and can be visited in tandem with stopping in to see the amphitheater. The trail is just around six miles long, so you could enjoy the trails during the day and stick around for the sunset later in the evening. The trail is open to the public, similar to the amphitheater. On non-event days, it opens one hour before sunrise and closes one hour after sunrise. Dogs are welcome, but be sure to bring your good hiking boots.
Ship Rock Grille
If a sit-down meal is something you would like to enjoy along with a spectacular view of the location, The Ship Rock Grille is open to the public both on the event and non-event days. If you are looking to attend a concert, you can even arrive before the start time and enjoy a pre-show dinner outside on the patio. Reservations are recommended at all times, but especially on concert days. On concert days, once the amphitheater closes to the public, usually around 2 pm, Ship Rock Grille does as well. You could only attend dinner at the grille after 2 pm on a concert day if you are a ticket holder for the event that night. This is true for the visitors center and Colorado Music Hall of Fame as well. If you plan to visit these areas or eat lunch at the grille on a concert day, make plans to arrive before lunch. Calling ahead can help you plan your day well.
Movies & Yoga
Concerts are not the only events that you can attend at the venue. You can come on your own to see the amphitheater during non-Red Rocks concert hours and closings, but the amphitheater hosts gatherings that have nothing to do with music. You can purchase a ticket to watch a film on select evenings at the amphitheater during the summer. Popcorn and concessions are available or purchase at these events. If fitness is something that you regularly participate in, why not attend a sunrise yoga class at Red Rocks? Attending a yoga class alongside thousands of other visitors is something unique and uplifting to experience.
Red Rocks Amphitheater offers concerts and countless other events at its prized location. If you are attending a concert, you will need reliable transportation after the event. There is no public transportation or Uber/Lyft driving available after these events, but Silver Mountain Express can provide you with an affordable, reliable, and luxurious transportation method to and from your music event. Private transportation is a luxury, but it does not have to be out of reach. We offer private transportation to and from locations in the Denver area, including Red Rocks. Let us take care of your transportation so that you can enjoy the evening of live music and fun with your friends and loved ones.