There's no better place to golf in Colorado than in Eagle County. Home to several premium courses, Eagle County has some of the best views in the entire state. Even in June, you'll be golfing where it's sunny and 70°F outside while you get to scope the snow topped peaks of the New York and Gore Range mountains. You'll understand why locals say that they came to Eagle County for the winters but stayed for the summers after golfing here!
Eagle County is located about 2 hours west of Denver. While it does have an airport, flights aren't as frequent into Eagle County airport, so it's often times easier to fly into Denver International Airport. The best way to get to any one of the Eagle County golf courses is by taking the Silver Mountain Express. They'll get you and all of your luggage to any one of the golf courses in Eagle County in style and comfort.
In this post, you'll learn about some of the best golf courses Eagle County has to offer and how long you can expect Silver Mountain Express to take you to them. Let's get started.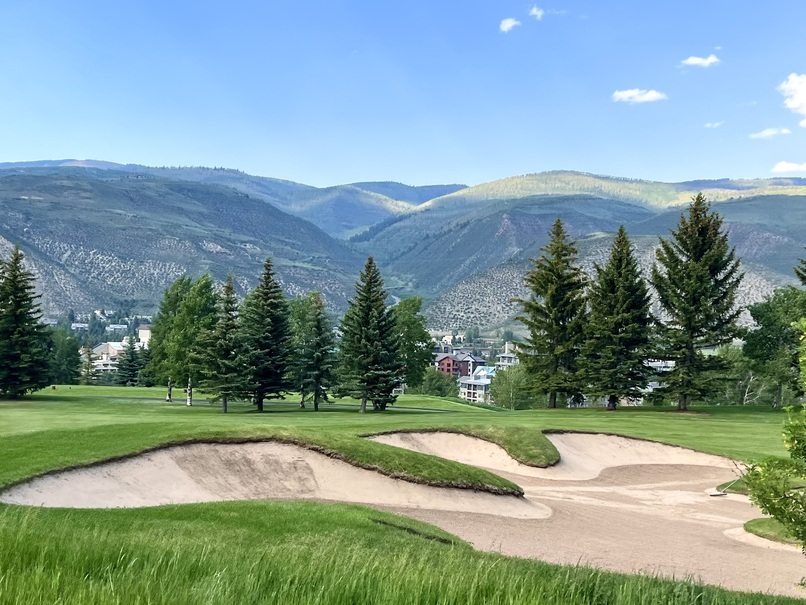 Beaver Creek Golf Club
One of the best golfing experiences in Eagle County is at Beaver Creek. Home to the Beaver Creek Ski Resort during the winter, the staff transforms this winter wonderland into a golfer's paradise in the summer. You'll love the challenging fairways and the spectacular views as you work your way through the course.
If you're looking to stay and play for a few days, you can easily book a hotel right on the resort. Beaver Creek offers several premium hotel experiences that allow you to stay and play without having to find parking. Many of the hotels located within the resort offer free shuttles from your accommodations to wherever you'd like to go on the resort, including the golf course!
Getting to Beaver Creek Golf Club from DIA is a breeze with Silver Mountain Express. Silver Mountain Express from DIA will get you to the course in around 2 hours and 15 minutes.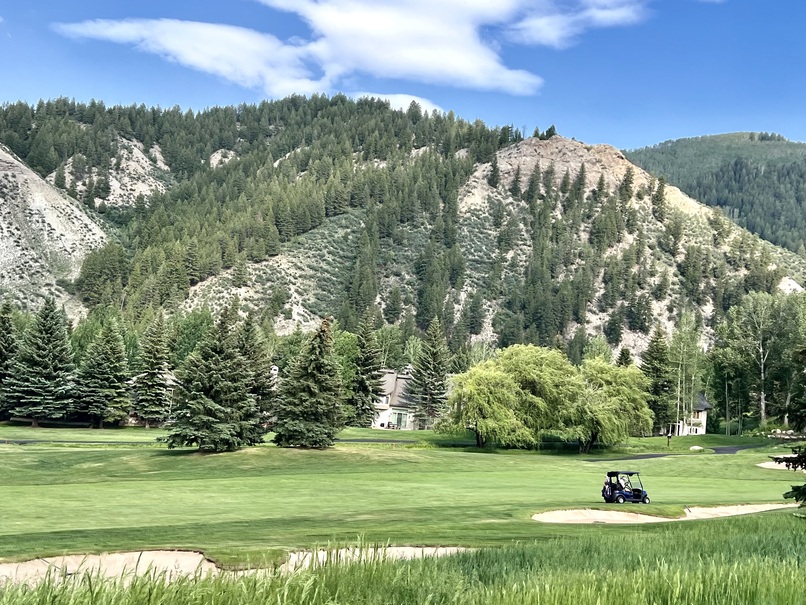 If you're visiting Eagle County, you absolutely have to golf at the Vail Golf Club. Recognized by Golfers Digest as one of the top 100 courses in the US, Vail offers views and experiences like no other. Just like Beaver Creek, you can easily book an awesome hotel right near the course and take one of the free shuttles offered by the hotels to get to your tee time.
The course itself is amazing. Views of the Gore Range abound as you work your way through an immaculately kept course. Temperatures stay nice and cool throughout the day thanks in large part to the high elevation as the Vail Golf Club is one of the highest clubs in elevation in Eagle County.
Getting to Vail Golf Club from DIA will take about 2 hours with Silver Mountain Express. You'll know you're getting close to the course as soon as you crest over the top of Vail Pass, which sits at over 10,000' high!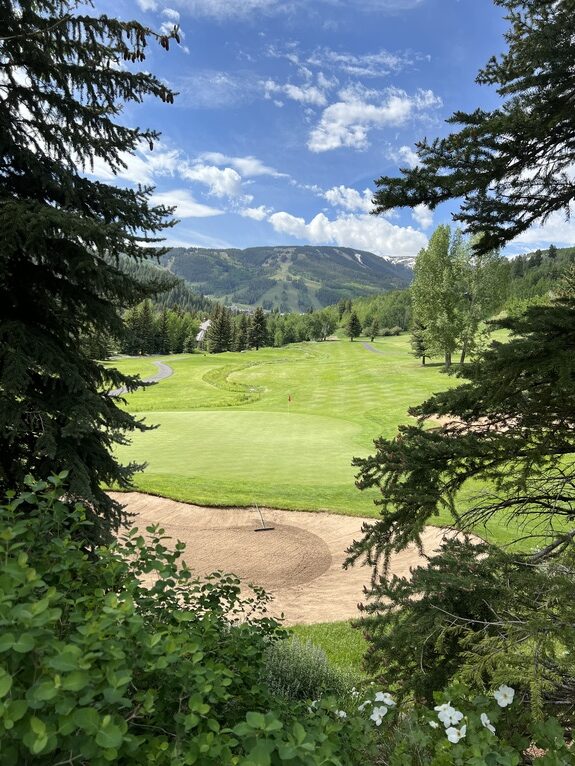 A gem of a golf course in Eagle County is the Eagle Ranch Golf Club. Located a short 15 minutes west of Beaver Creek, Eagle Ranch Golf Club is tucked away off the interstate in the town of Eagle. Over the last several years, Eagle Ranch has grown into a phenomenal neighborhood in Eagle. While there aren't hotels located right next to the golf club, you can certainly book an Air Bnb out here and be seconds away from the course.
The views that you get while playing at Eagle Ranch are pretty phenomenal as well. The New York Range looms in the distance with snow covered peaks well into June (often holding snow until July!). It's pretty surreal to be playing golf while it's so warm and to be able to see snow so close by.
Getting to Eagle Ranch Golf Club from DIA with Silver Mountain Express is still the best way to start your vacation. It'll take about 2 hours and 30 minutes to go from the terminal to the club house.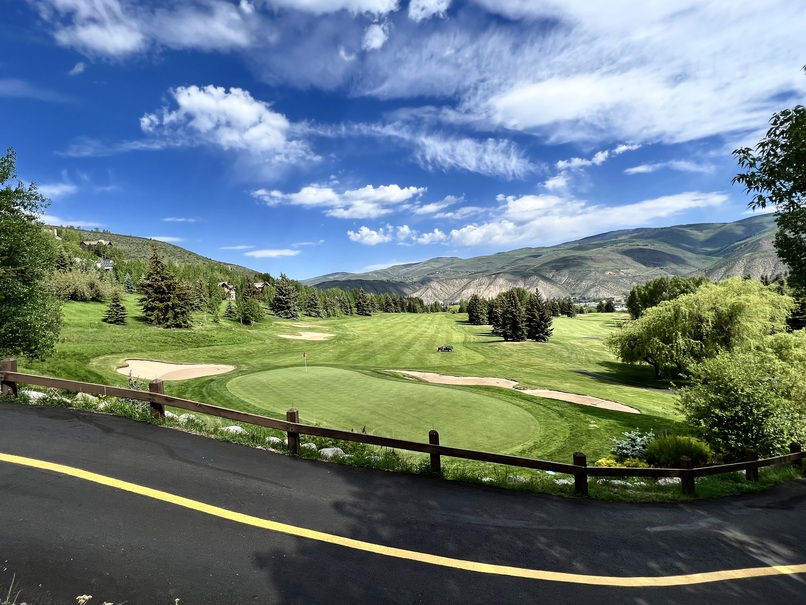 Another great course to check out in the down valley region of Eagle County is Gypsum Creek Golf Club. Located in the tiny town of Gypsum, you'll find that the geology and weather is much different than it is just 20 to 30 minutes east in Beaver Creek and in Vail. Often times when it's raining or snowing up valley, Gypsum will be bone dry!
Gypsum Creek Golf Club also has a pretty amazing clubhouse with food and drinks to help you refuel after a long day out on the course. The deck offers views of the Flat Tops. The Flat Tops are a range of mountains that tower over 10,000' tall, but the peaks are flat, hence the name! In the evening time, just around sun set, you'll swear that the tops of these mountains are shining gold from the sun reflecting off the snow. It's something to behold for sure!
Getting to Gypsum Creek Golf Club from DIA is easy with Silver Mountain Express. From terminal to course, you can expect it to take about 2 hours and 30 minutes.
Final Thoughts
As you can see, Silver Mountain Express can get you to any one of these amazing courses on time and in style. You'll be able to grab your bags after getting off the plane and get whisked away to an awesome vacation. Be sure to book your transportation in advance to ensure you get the size of vehicle you want for the date you plan on traveling. Check out our website here to get started today!