The Westin Denver Airport Hotel is a great place to stay when visiting Colorado. It's close to the airport, has great amenities, and is minutes from downtown Denver. The Westin Denver Airport Hotel is connected to the Jeppesen Terminal of the main Denver International Airport.
Here, I will be telling you the key information about the sophisticated Westin Denver Airport Hotel, as well as all the different ways you can travel from here to Breckenridge, Colorado.
What You Need to Know about The Westin Denver International Airport
You can make your way to the hotel quickly and easily once you have landed as it has a direct connection to the Denver International Airport.
The hotel is a good blend of luxury and business with rooms that have incredible views of the famous Rocky Mountains and Colorado's gorgeous landscape.
Its features include:
519 guest rooms and 35 suits
37,500 square feet of conference rooms
15 boardrooms/meeting rooms
Two gorgeous ballrooms
An indoor pool and gym that overlooks the airport's famous roof
Transit Drop Centre, where you can conveniently drop off luggage before a flight.
The hotel is also next to Denver International Airport's open-air Plaza, where you will find food and drinks, entertainment, and events to get involved with.
Valet parking is also available for $39 for five nights and $19 for each night thereafter.
Breckenridge is a Colorado town at the base of the Rocky Mountains' Tenmile Range. It's known for its ski resort, year-round alpine activities, and Gold Rush history.
Much like Aspen and Vail, Breckenridge is a town that is known for its luxurious ski resort, stunning mountain scenery, and endless recreation. The former mining town is lined with hundreds of restaurants, shops, and saloons. Breckenridge attracts visitors from around the world.
The Victorian core of this former mining town is preserved as the Breckenridge National Historic District, running primarily along Main Street, with colorfully painted buildings from the 1880s and '90s housing shops, galleries, and restaurants.
Breckenridge is Located 75 miles from Denver International Airport. It is one of the best destinations for skiers and snowboarders from all over the world.
Though if you're looking to spend some time in the mountains. Breckenridge is a good choice for skiing, snowboarding, or just enjoying the winter scenery.
So, whether you're looking for the quickest route, the most scenic route, or the most economical route, this article got you covered.
Here, I'd talk about some of the best ways to get from Denver International Airport to Breckenridge, Colorado.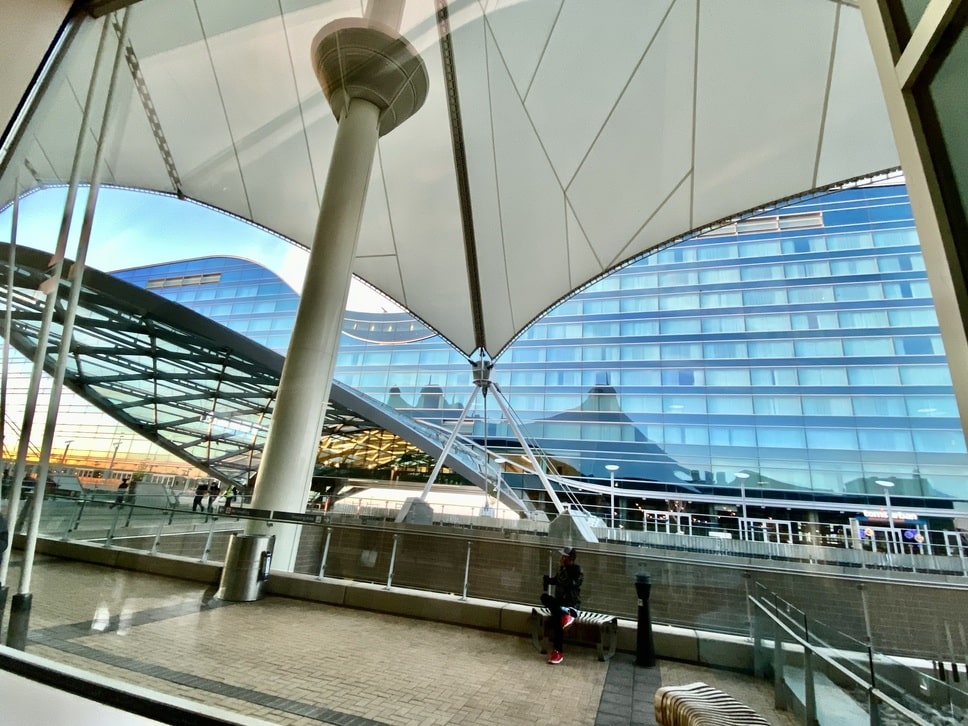 Drive Yourself
From Denver, it is a beautiful one-hour-and-45-minute drive (depending on traffic and weather it can be much longer) via I-70 and Hwy 9 to Breckenridge. The route takes you over the Continental Divide as you cross the Front Range of the Rocky Mountains and is stunning in any season.
Of course, if you're renting a car during your stay in Breckenridge, driving yourself from the airport is always an option. While it will take a bit longer than taking public transportation—the drive from Denver International Airport to Breckenridge is just over an hour—you'll have the flexibility to come and go as you please during your stay. Just be sure to beware of winter weather conditions and take your time on those winding mountain roads!
The route from the airport to Breckenridge is beautiful and it is truly relaxing to take it from the airport, you'll follow the signs to I-70 westbound and stay on this highway for more than an hour. Along the way, you'll drive through the Eisenhower Tunnel. You might notice a stark difference in weather between the sides of the tunnel as it goes through the Continental Divide. After the tunnel, you'll continue west on I-70 to exit 203 and follow the signs to Highway 9 south. From here, it is a nine-mile drive to Breckenridge's mountainous scenery and woody areas. This drive is a fantastic introduction to the area.
Driving yourself between the destinations will be a different experience in winter versus summer. Winter driving conditions between Denver and Breckenridge can be intense. The weather in Denver, for instance, may be sunny and mild, while in the mountains, heavy snow and whiteout conditions can exist.
Finally, if you're renting a car during your stay, you can drive yourself from the hotel to Breckenridge. The drive is very scenic and takes you through some of Colorado's iconic mountain towns like Idaho Springs and Empire. Be aware that winter conditions in the mountains can be hazardous, so make sure you're comfortable driving in snow and ice before undertaking this trip.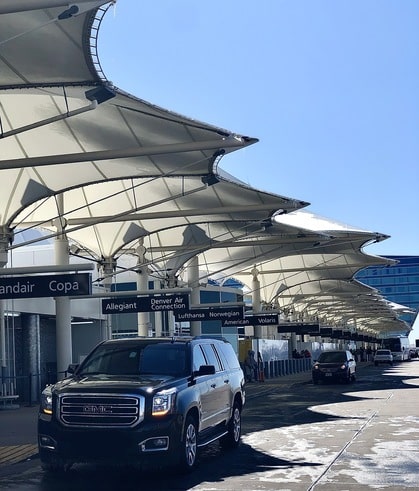 With Silver Mountain Express, you can get from Denver International Airport (DIA) to Breckenridge in style and comfort. They offer professional rates for their shuttle service that are competitive with other limo companies around town as well! Their prices start from $500 for a luxury shuttle service. When booking your trip just be sure not to forget about all these awesome amenities: free Wi-Fi on board; accommodate luggage size up at no extra charge; pick up any time — and even pickups from Westin Hotel and Limo Island. Silver Mountain Express operates luxury Suburban, Yukon, Escalade, and Transit all-new body styles luxury cars.
Peak 1 Express offers airport shuttles between DIA and all Summit County locations, including Breckenridge, Copper Mountain, and Keystone. Guests may choose from door-to-door service or their great special $54 anytime to or from the Frisco Transfer Station or $59 to or from the Breckenridge Transfer Station. Peak also provides charters and private SUVs.
Another option to take is the Bustang bus from Union Station in Denver to the Frisco Transit Center. From there, you can catch the Summit Stage bus to Breckenridge. The entire trip will take about 2.5 hours and cost $13.
The Bustang Bus is a comfortable, hassle-free, and convenient way to get to your destination without having to worry about driving in unfamiliar territory.
The Bustang bus is hands-down the quickest way to get from Denver International Airport to downtown Breckenridge. Departing every 15 minutes from right outside baggage claim, the Bustang bus will whisk you away on a comfortable, stress-free journey that will have you in Breckenridge in just under two hours.
The first thing you need to do is purchase your ticket. Tickets can be purchased online in advance or at the Bustang Bus counter at the Denver Airport. We recommend purchasing your ticket in advance so that you can relax and enjoy your ride knowing that everything is taken care of. Best of all, tickets start at just $29 per person.
Once you have your ticket, head to baggage claim and collect your luggage. Then, make your way to door 604, where the Bustang Bus picks up passengers for its daily shuttle service to Breckenridge. The bus departs every 30 minutes, so you won't have to wait long!
On the ride itself, sit back and relax as you take in the scenic views of the Rocky Mountains. The ride takes approximately 2 hours and 15 minutes, and there are restrooms on board for your convenience.
Once you arrive in Breckenridge, your driver will help you with your luggage and direct you to your destination. And that's it! You've successfully made your way from the Denver Airport to Breckenridge on the Bustang Bus.
The Summit Express provides luxury SUVs to the Denver International Airport so you can enjoy your time in Breckenridge. They offer shuttles that go hourly, with limited availability, and recommend making reservations well ahead of the trip as it fills up quickly.
If you don't want to rent a car but still want the flexibility of having your own set of wheels during your stay, taking an Uber or Lyft is a great option. While rates will vary depending on demand and time of day, you can expect to pay around $220-$420 for an Uber XL from Denver International Airport to Breckenridge.
Taking an Uber or Lyft from Denver International Airport (DIA) to Breckenridge is a popular and convenient option for travelers. Although it is slightly more expensive than other modes of transportation, it can be worth it for convenience and peace of mind. Plus, with stunning mountain views along the way, you can sit back and enjoy the ride. If you're looking for a quicker trip, you can always take a taxi or rideshare services like Uber or Lyft. The drive from the Westin Denver Airport Hotel to Breckenridge is about 1 hour and 30 minutes and will cost around $220-$420.
Here are some tips for using Uber or Lyft to get from DIA to Breckenridge:
Requesting Your Ride
When you are ready to request your ride, open the Uber or Lyft app on your smartphone and enter your destination as "Breckenridge, CO." The app will then give you an estimated fare price and estimated arrival time for your driver. Once you confirm these details, a driver will be dispatched to your location. You can track the progress of your driver on the map in the app so you know exactly when they will arrive.
Paying for Your Ride
When your ride is completed, the fare will be automatically charged to the credit card that you have on file with Uber or Lyft. If you would like to tip your driver, you can do so through the app after your ride is completed.
There are quite a few shuttle companies operating between Denver International Airport and ski resorts throughout Colorado, so finding one that goes to Breckenridge should be a breeze. Prices also vary depending on the company and time of year, but you can expect to pay around $60-$70 per person for a one-way trip.
If you're planning a trip to Breckenridge, Colorado, you might be wondering how to get from the Denver airport to your destination. While you could always rent a car, we think taking a shuttle is the way to go. Here are 5 reasons why:
Save money. When you take a shuttle, you can avoid the high cost of renting a car for your entire trip. With gas prices what they are these days, shuttles are the more economical option.
Save time. If you're not familiar with the area, driving from the airport to Breckenridge can be time-consuming and stressful. Let someone else do the driving while you sit back and relax.
Enjoy the scenery. The drive from Denver to Breckenridge takes you through some of Colorado's most beautiful scenery. Why not take advantage of it by being a passenger instead of a driver?
Avoid the hassles of parking. Once you arrive in Breckenridge, there's no need to worry about finding (and paying for) a parking spot. Your shuttle driver will drop you off right at your hotel or condo complex.
Travel with ease. Traveling can be stressful enough without having to worry about renting a car and driving in an unfamiliar place. When you take a shuttle, all you must do is sit back and enjoy the ride!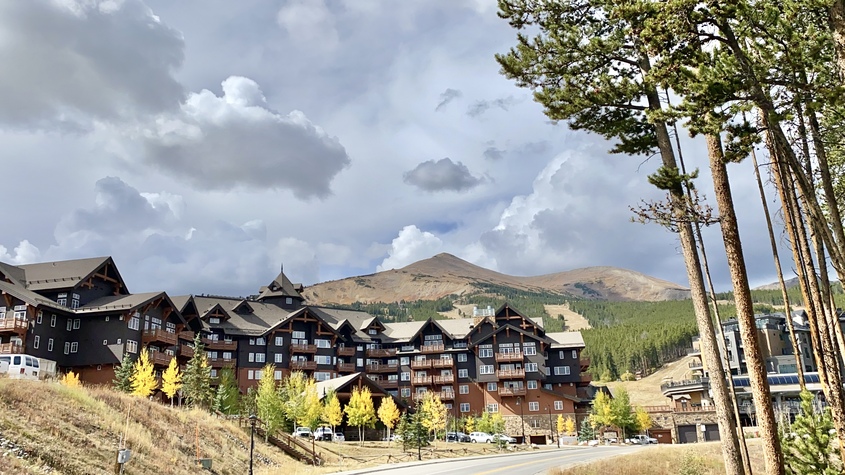 Conclusion:
There are a variety of transportation options available when traveling from the Westin Denver Airport Hotel to Breckenridge. You can take the bus, book a limo ride, hail a taxi, or rideshare, or rent a car and drive yourself. No matter which option you choose, you're sure to enjoy your time in Colorado's beautiful mountains!
No matter how you get from Denver International Airport to Breckenridge—whether by bus, train, car, or shuttle—you're in for an unforgettable experience. Whatever option you choose, you can be sure to have an unforgettable trip seeing modern Westin Denver International Airport and the mountains of Breckenridge.
Just be sure to plan and book your transportation early so that you can sit back and relax knowing that everything is taken care of well in advance.