Elevate Your Journey with Silver Mountain Express in Fort Collins
In the realm of travel, the journey often overshadows the destination. But with Silver Mountain Express, we ensure that every ride, whether to a picturesque destination or a bustling airport, becomes a luxurious experience in itself.
Discover Fort Collins with Silver Mountain Express
Fort Collins, often referred to as the "Choice City," is a blend of cultural vibrancy and natural beauty. Here are some must-visit places:
Old Town Historic District: Experience the charm of historic buildings, boutique shops, and an array of restaurants and breweries. This area served as an inspiration for Disneyland's Main Street USA!
Horsetooth Reservoir: A haven for outdoor enthusiasts, this spot offers activities like boating, fishing, hiking, and more, all with a backdrop of stunning mountain views.
Fort Collins Museum of Discovery: Dive deep into the history, science, and culture of the region. It's an interactive experience suitable for all ages.
Cache La Poudre River: Known for its white-water rapids, it's a favorite among adventurers looking to kayak or raft.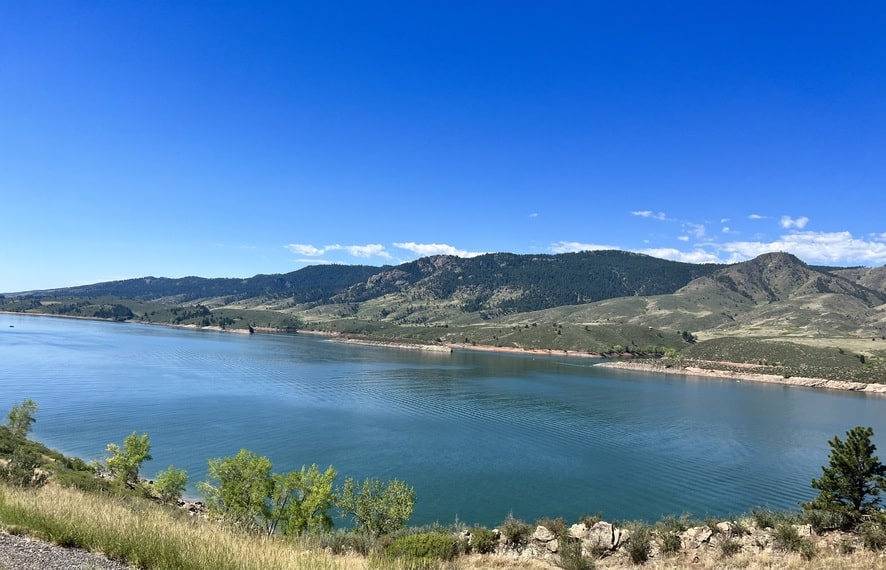 Airports Near Fort Collins
For those flying in or out of Fort Collins, there are a couple of key airports to be aware of:
Fort Collins-Loveland Municipal Airport (FNL): Located just a few miles from downtown Fort Collins, it's a convenient option for general aviation and some commercial flights.
Denver International Airport (DEN): As one of the largest international gateways, DIA is approximately an hour and a half drive from Fort Collins. Our luxury car service ensures a comfortable journey to and from this major hub.
Fort Collins Transportation Rates
Elevate Your Journey with Silver Mountain Express
In the world of travel, the journey often becomes a mere footnote to the destination. But what if the journey could be as memorable, if not more so, than the destination itself? Enter Silver Mountain Express, where every ride is an experience in luxury and elegance.
Why Choose Silver Mountain Express?
Luxurious Fleet: Our vehicles are more than just a mode of transportation; they're a statement of elegance and comfort.
Expert Chauffeurs: Knowledgeable about every corner of Fort Collins and the best routes to the airports, our drivers ensure a smooth and informative ride.
Transparent Pricing: Experience luxury without the shock of hidden costs. Our rates are both competitive and transparent.
Customized Service: Every journey is tailored to your needs, ensuring a personalized travel experience.
---
FAQs
How do I book a ride with Silver Mountain Express to Fort Collins?
Simply contact us via email at silvermountainexpress@gmail.com or call us at +1 720 440 4202 to make a reservation.
How far in advance should I book?
While we recommend booking at least 24 hours in advance to ensure availability, we do our best to accommodate last-minute requests.
What types of vehicles are available?
Our fleet includes luxury sedans, SUVs, and vans. Specific models can be provided upon request.
Is there a cancellation policy?
Yes, cancellations made more than 72 hours before the scheduled pick-up time are free. Cancellations made within 72 hours will incur a full charge.
Do you offer round-trip services?
Absolutely! We can arrange both one-way and round-trip transportation based on your needs.
Is there a waiting charge if my flight is delayed?
We monitor flight statuses and adjust pick-up times accordingly. There's a grace period of 60 minutes for international flights and 30 minutes for domestic flights. After that, additional waiting charges may apply.
---
Rates to Fort Collins
Luxury Sedan (up to 2 passengers): $300 one-way
Luxury SUV (up to 6 passengers): $330 one-way
Executive Van (up to 7 passengers): $350 one-way
Note: Prices are subject to change based on season, availability, and special requests. Always confirm rates at the time of booking.
---
For any other questions or to get a personalized quote, don't hesitate to reach out to us. We're here to make your journey to Fort Collins as comfortable and hassle-free as possible.
Book Your Fort Collins Luxury Transportation Today!
Discover the Silver Mountain Difference
A Fleet Beyond Ordinary: At Silver Mountain Express, we believe that a vehicle is more than just a mode of transportation. It's an extension of your personal style and taste. Our fleet, meticulously maintained and curated, offers a blend of comfort, style, and sophistication. Whether you're in town for a business meeting or a leisurely vacation, our cars ensure you arrive in style.
Chauffeurs Like No Other: Our chauffeurs are the heart and soul of our service. Trained to perfection, they are not just drivers but your companions on the road. With an in-depth knowledge of the city's nooks and crannies, they ensure not just timely arrivals but also introduce you to hidden gems along the way.
Transparent and Competitive Pricing: Luxury doesn't always have to come with a hefty price tag. Our pricing model is transparent, with no hidden surprises. We believe in offering value, ensuring that every penny you spend translates into a memorable experience.
Tailored to You: We understand that every traveler is unique, with distinct needs and preferences. Our services are flexible and can be tailored to suit your specific requirements. Whether you need a serene drive around the city, a quick airport transfer, or a day-long excursion, we've got you covered.
To elevate your Fort Collins experience with our Luxury Car Service, contact us at:
Email: info@silvermountainexpress.com
Phone: +1 720 440 4202
With Silver Mountain Express, every journey in and around Fort Collins becomes a luxurious adventure. Whether you're exploring the city's gems or heading to the airport, we ensure a ride filled with comfort, elegance, and style.