Traveling can be hectic at times, especially if you don't have a reliable transport provider. The time wasted and the frustrations encountered before you embark and finish your journey are tremendous. It takes a toll on your body and mind. Sometimes call, jet lag is made worse by fatigue from uncomfortable cars coupled with the stress and hassle of getting a reliable transport service. All of this is solved by getting a quality and reliable car service in the area of your destination. A car service that takes you from the airport and safely and comfortably takes you to your destination.
To achieve this, you need a leading airport car service to provide in Colorado Springs, like Silver Mountain Express. A reliable airport car service offering top-notch transportation services to and from the Colorado Springs airport.
Whether you are a vacationer or a business traveler, Silver Mountain Express has a team of professional drivers and well-maintained vehicles. These ensure you have a comfortable and stress-free journey from the airport to your destination. The company also has a range of vehicles to choose from, including SUVs, sedans, and vans that accommodate any group size. All you have to do is pick how you want to travel and get a driver ready and waiting for you at the airport. To make your transportation needs easier, we have an online reservation system with 24/7 customer support. You can book and manage your transportation needs stress free.
Safe and Comfortable Transportation Services
Having a car service willing to forego everything to satisfy the customer is sometimes hard. Most of these companies tend to overlook some of the things, such as having an insured and professional driver. This means a lack of consistent customer service and safety.
When traveling and looking for a Colorado Springs Airport car service, the first thing to look for is safety. This is closely followed by reliability and comfort. At Colorado Springs, a transport company like Silver Mountain Express is expected to handle clients from destinations like the United States Air Force Academy. Here, the staff and cadets frequenting the base are expected to be strictly on time or face dire consequences. If your destination is the United States Air Force Academy, you need a reliable transport service to and from Colorado Springs airport. This means the driver is professional, reliable, and on time. No staff or cadet wants to miss their check-in at the Academy due to traffic, a slow, or unreliable driver.
Safety is also paramount when offering transport services. One needs a licensed, insured, and professional driver who knows the area they're traveling to. This means the driver knows all the routes, and if you have to avoid traffic, they know the safest and fastest route to take.
Do you want to get to your destination as fast as possible? Or do you want to take your time with your window rolled down to enjoy the views of the Colorado Springs area? Talk to our driver and enjoy exceptional services tailored to your liking.
Reliable Transport Services From Colorado Springs Airport to Any Destination
In addition to having a reliable and safe car service from Colorado Springs Airport, you also need flexibility. This means a transport service that doesn't limit you to certain destinations. We've seen these companies in Colorado Springs, where they don't drop customers in specific places. As a business person or vacationer, it would be frustrating.
With Silver Mountain Express, your destinations are unlimited. Let's say, for example, your destination is Broadmoor Hotel, but you want to pass by the Garden of the Gods Visitor & Nature Center. First, all you need to do is inform us in advance. After booking with us, we will take you to your destination and stop on the way for you to book a spot at the Garden of the Gods Visitor & Nature Center. With other transportation services, you might not be allowed to take a detour but go straight to your destination. We don't limit our customers.
Some transport services have been blacklisted by organizations and hotels, prohibiting them from dropping passengers off inside the institutions. With a destination such as the United Air Force Academy, your transport company has to have the highest level of professionalism to be let in. Once your driver gets in the compound, they are supposed to adhere to some rules and act professionally. The lack of this can get them blacklisted from specific parts of the institution. At Silver Mountain Express, we won't drop you at the gate or outside any institution. We take you right to the door, and our professional driver helps you with your luggage inside the organization or institution if need be.
Silver Mountain Express can pick you up from any destination as well. Let's assume you are traveling and want to visit Cave of the wind or the Broadmoor Seven Falls. On the day of your travel, our reliable Colorado Springs Airport car service can pick you up from the airport right to either Broadmoor Seven Falls or the Cave of the Wind. When it is time to go back to the airport, you can go hiking at the Royal George Bridge Park, and our car service will pick you up from that exact destination.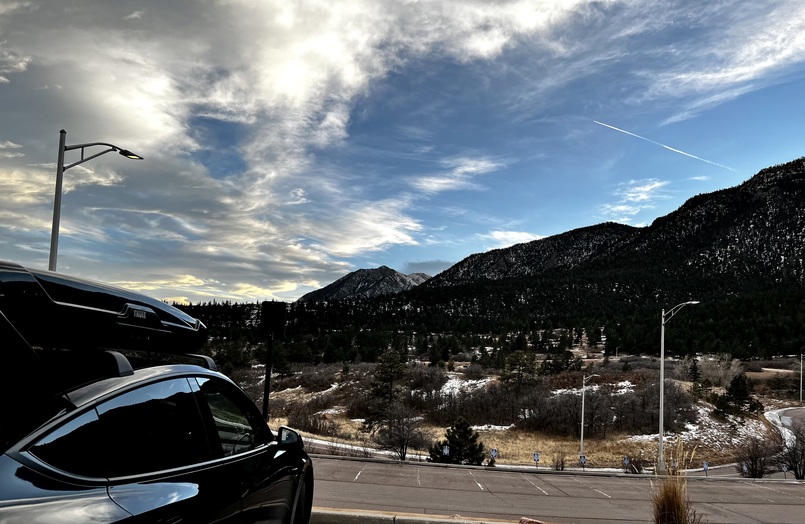 Colorado Springs Airport Car Service
What are your transport service needs? Share them with us at Silver Mountain Express services, and let us handle them for you. We provide a variety of vehicles to choose from, from sedans, SUVs and vans that accommodate both group and individual travel needs. Our experienced drivers ensure safe and prompt arrival to destinations such as Cheyenne Mountain Zoo stress-free. With our efficient and convenient service, you can sit back and relax as you enjoy the views of Colorado Springs without the stress of navigating unfamiliar routes. Our professional drivers ensure you get a high-quality ride and travel in style, just like you wanted when you called us. Book your travels with us today and enjoy high-quality transport services. We provide you with a comfortable and hassle-free way of getting around the Colorado Springs area.