Denver to Breckenridge Car Service, Limo, and Luxury SUV.
24/7 Private Shuttle Service
Easy online booking for all your transportation needs
Door-to-door private car service
Safe travel with experienced and helpful drivers
Airport greeting and no problems if your flight is delayed
A great alternative to taxis and shared-ride services
Reduce stress, no haggling at the airport, no queues for Uber or Lyft
Luxury cars with professional chauffeurs
All major credit and debit cards accepted
CHILD SEATS: free of charge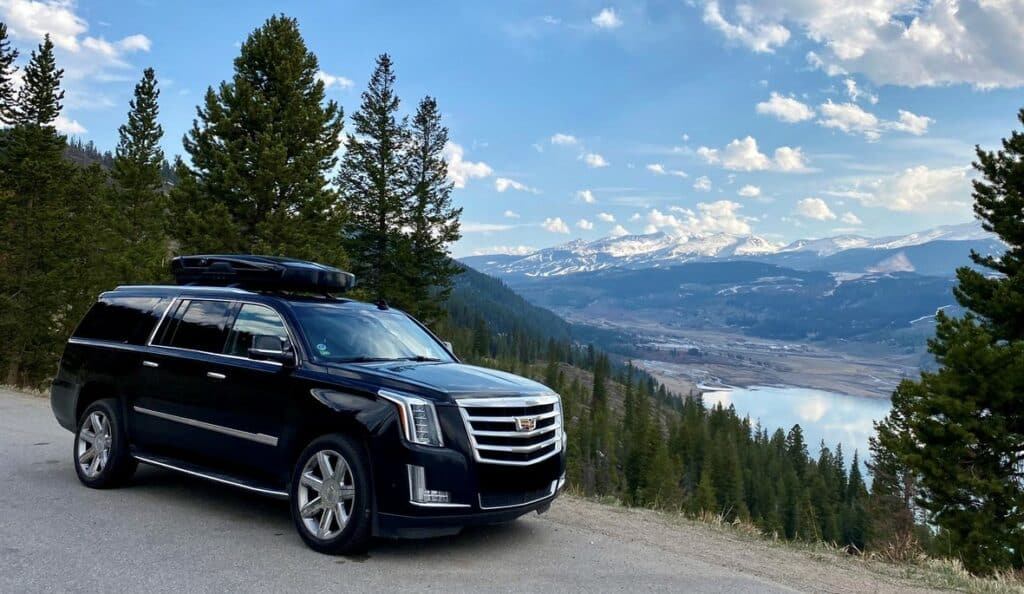 Book now
Are you searching for Denver to Breckenridge car service or luxury SUV for your vacation? Maybe you don't have a car prepared for mountain roads, or you want to leave it at home. Well, we love our work, and we can take care of you and your family on your trip from Denver to Breckenridge.
Denver to Breckenridge car service
Our company specializes in luxury car service in the mountains. Why should you choose us to deliver you to the destination? Because our company offers safe car service in the surroundings of Colorado. We can take you from Denver International Airport and deliver you to Breckenridge in a luxury SUV or any destination in the Colorado area. Check out Denver airport murals.
RATES
| Denver International Airport (one-way) | Large SUV 6 Passengers | Large SUV 7 Passengers |
| --- | --- | --- |
| Aspen/Snowmass | $950 | $1000 |
| Avon/Vail | $500 | $550 |
| Beaver Creek/Bachelor Gulch | $500 | $550 |
| Breckenridge/Keystone | $500 | $550 |
| Cordillera | $550 | $600 |
| Frisco/Silverthorne/Copper | $450 | $500 |
| Eagle | $700 | $800 |
| Edwards/Arrowhead | $550 | $600 |
| Glenwood Springs | $850 | $900 |
| Grand Junction | $950 | $1000 |
| Idaho Springs | $300 | $350 |
| Steamboat Springs | $900 | $950 |
| Winter Park | $500 | $550 |
To enrich your knowledge, we would like to show you why Breckenridge is a special destination. The city is known as the best place for ski lovers. Every year, in January, they organize The Backcountry Film Festival, an event that unites all ages and nations. The Festival has a portfolio that consists of over 100 screenings around the world. It connects one of the best filmmakers that exist. It was created to show appreciation and admiration for the human experience and the conservation of winter landscapes. Make sure you book your trip in this period of time because we'll take care of the transport. Check out transportation from Denver to Breckenridge.
Private transportation from Denver to Breckenridge
If you choose car service to travel from Denver to Breckenridge in the summer, make sure your reservation includes the date of July 4th. There is a great party to celebrate Independence Day. That includes a parade, a 10-km marathon, family activities, and, at the end of the day, you will be part of an exceptional show held by The National Repertory Orchestra. Also, due to this event, a Creative Arts Street Festival is held, which promotes the beauty of graffiti art street arts. You can be part of some workshops on the streets.
When you lack inspiration, we recommend you take a 3 hours walk trip to visit the Edwin Carter Museums, the oldest museum in the state, named in honor of the local miner and naturalist Edwin Carter. The exhibition shows the creators' passion for collecting different animals and birds that were supposed to disappear. Today, the collection reaches several 3.000 specimens.
The main purpose of Silver Mountain Express is to make sure our customers are satisfied with our services. We can arrange private car service from Denver to Breckenridge whenever you want to make your vacation a good one. Just contact us!